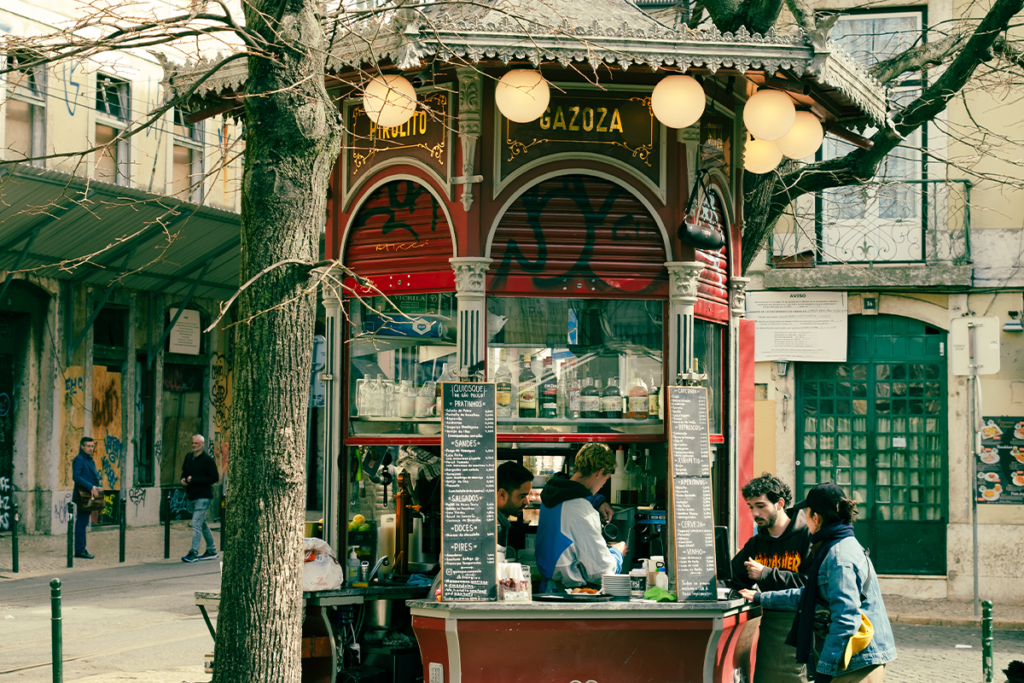 Lisbon has an appealing, timeless aesthetic. With so much of its historic core intact, it can give the impression that everything has been there forever: tiles on building façades, the intricate calçada sidewalk mosaics and the ubiquitous quiosques de refrescos (refreshment kiosks) that pop up in plazas and gardens. 
The kiosks serve beer, wine, classic drinks and an array of snacks or bites – no two kiosks menus are exactly alike. But, the intent of the dozens of kiosks scattered around Lisbon is the same. Locals have a place to meet up with friends or colleagues. Visitors have a chance for a unique cultural experience. And everybody has an excuse to linger at some of Lisbon's most vivid areas.
Amazingly, the quiosques de refrescos were almost not to be! Originating in the late 1800s, the kiosks blossomed alongside turn of the century European cafe culture. However, after the four-decade Salazar dictatorship which wasn't keen on public gatherings, the kiosks faded and nearly disappeared. There they sat, dilapidated and mostly ignored until 2009 when they experienced a rebirth. The kiosks were organically rewoven into the culture over the next decade and now appear as if they never left.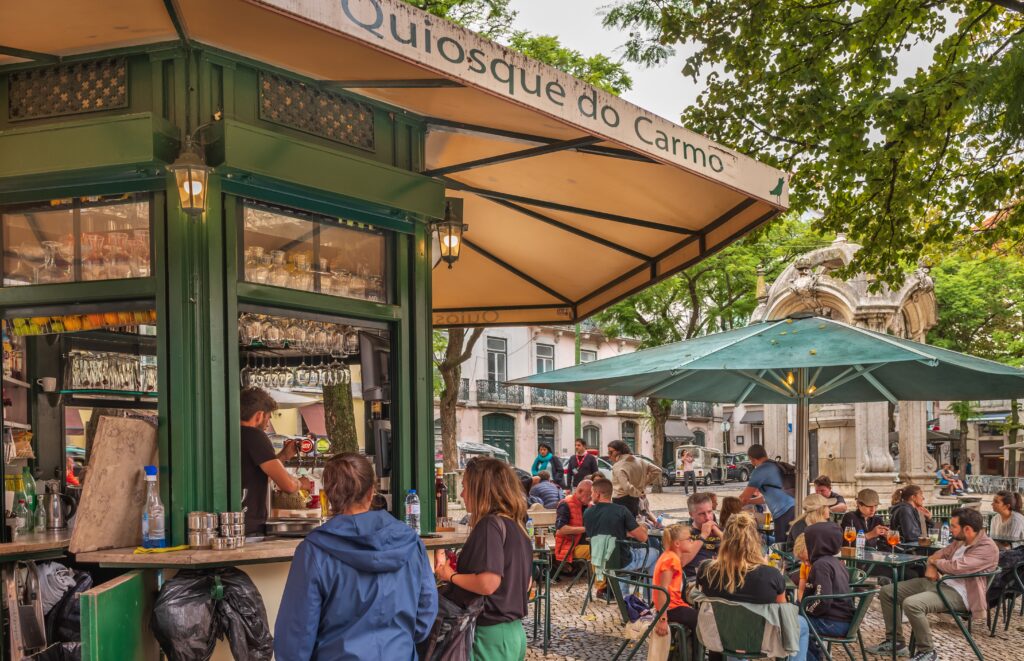 We encourage you to stop at any and all kiosks whenever the spirit strikes you. As we mentioned, quiosques de refrescos vary from location to location. Some lean more on the refreshment angle while others have a strong culinary link. All are family-friendly and allow the visitor to soak up atmosphere and caffeine (or liquor!) at the same time. Here are a few worthy of going out of your way for – as long as you can find a seat!
Gengibre da Estrela 
This kiosk is located in the most kid-friendly park in Lisbon, Jardim da Estrela. Jardim da Estrela is a large pentagon-shaped green space with grassy patches, shady trees, babbling ponds and paved sidewalks (which you almost never see in Lisbon). There are a couple of playgrounds of varying agility levels adjacent to this kiosk. That fact alone is what makes it noteworthy. There is a second kiosk in Jardim da Estrela, called Banana Cafe. But, Gengibre da Estrela is much closer to the playgrounds, so it gets the preferential nod.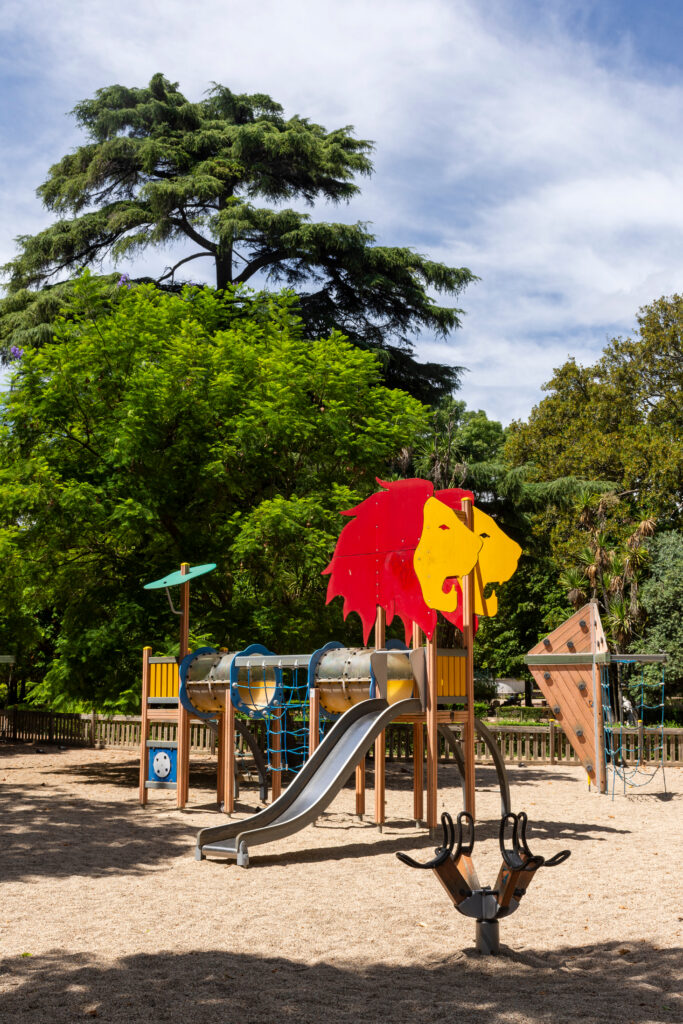 Quiosque do Miradouro de São Pedro Alcântara
Location, location, location. Sometimes the obvious choice is so obvious people dismiss it. Take the Glória funicular up from Baixa neighborhood or walk to the end of Bairro Alto for a lookout most would argue is the best in Lisbon. We'd argue that you made so much effort to get up here, that you should hang out with that view for a while. It can be quite busy, but word to the wise, they open daily at 10:00 am. If you need a little more space, take your drink down a level to the terrace just below the miradouro, your kids can run around and the view is just as good. Just remember to set a good example and return your glass to the kiosk.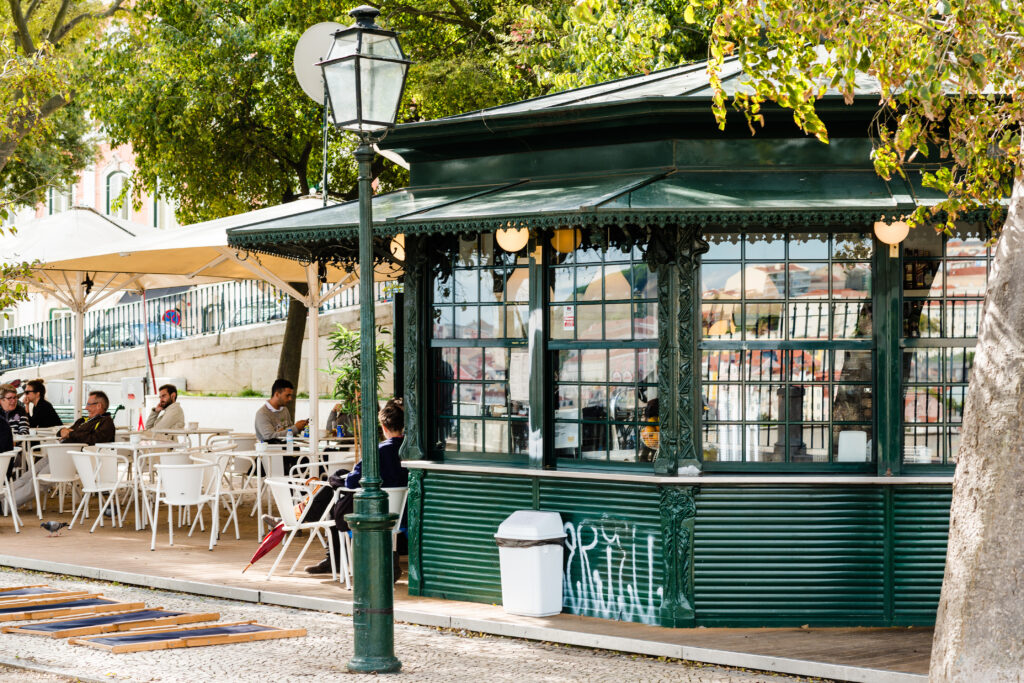 Quiosque de Campo de Ourique – Hamburgueria da Prada
Hamburger is one of those words that never gets lost in translation. You won't find Campo de Ourique on the tourist trail – and that's a good thing. It's a residential area adjacent to Príncipe Real that just so happens to have the western terminus of the famous #28 Tram route. Wander up to Jardim da Prada for a stark contrast of the touristic chaos below you. You'll find ancient shady trees, turtles swimming in a pond, century-old band shells and a little kiosk slinging burgers and beers. There's also a parque infantil, but the park's vibes are more of the nap-in-the-stroller variety. 
Quiosque Beca Beca
Full disclosure, this kiosk is not housed in the usual art nouveau hut. It's more of a repurposed shipping container, but don't get hung up on these details. Beca Beca is the ultimate family kiosk. Adjacent to the long, sloped stretch of Parque Eduard VII and near the entrance to Estufa Fria (a noteworthy botanical garden), Beca Beca lends itself to meet-ups and group hangs. It is also right next to one of the largest playgrounds in all of Lisbon (with the most unique swing set we've ever seen). This is a safe space for parents to let loose a little bit. The music is always upbeat and sometimes provided by a DJ!