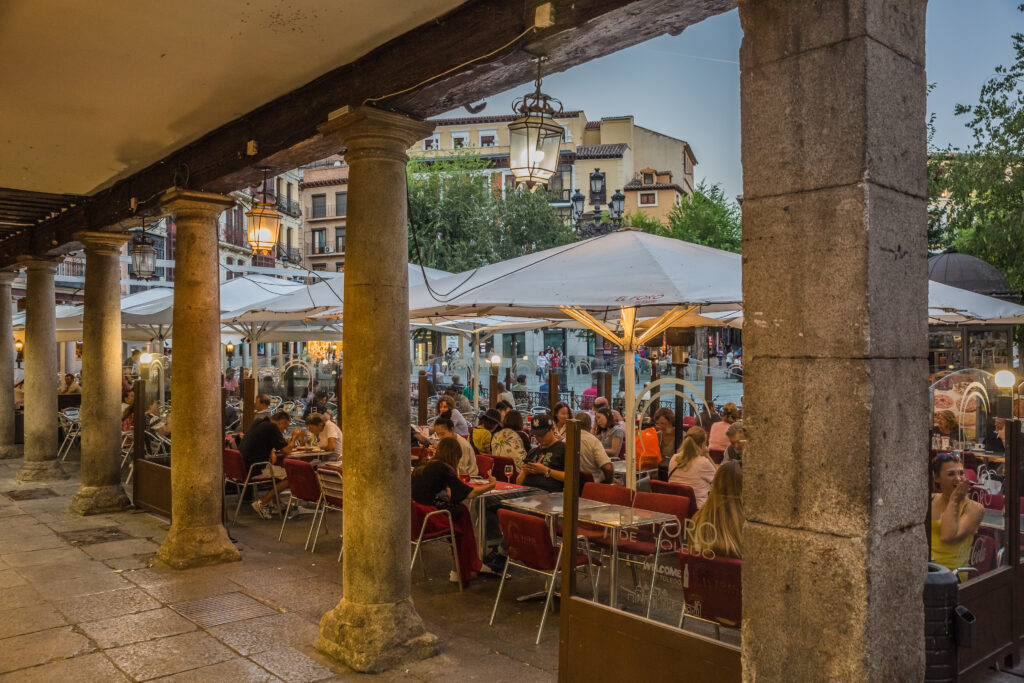 Toledo can be a tricky dining scene to navigate. Tourists looking for the nearest thing, college students looking for the cheapest thing and government officials looking for the most reliable thing makes for any interesting tangle of dissimilar interests. There's also the fact that many places observe the siesta and close for several hours in the afternoon. Here is a short list of vetted spots worthy of seeking out on a visit to town.  
Panadería Benipan 
You don't need a translator for the word panadería, do you? How about the word croissantería? Both words feature on this little bakery's banner outside. There's usually a line queuing up for the 9:15am opening – folks waiting for a staggering assortment of freshly baked goods. This is a nice spot for a breakfast snack in advance of the Cathedral tour, a mere two-minute walk away. Closes daily at 2:00 pm or when they sell out of product – whichever comes first. 
La Malquerida 
The eclectic menu mirrors the eclectic, hodgepodge decor. This is a bar, coffee shop and restaurant all rolled into one. There are nods to the tourists (bagels, hamburgers and lasagna(!)) but also Spanish classics (tortilla, croquetas and jamón). Most importantly, as eating options dwindle during the mid-afternoon siesta, La Malquerida remains open.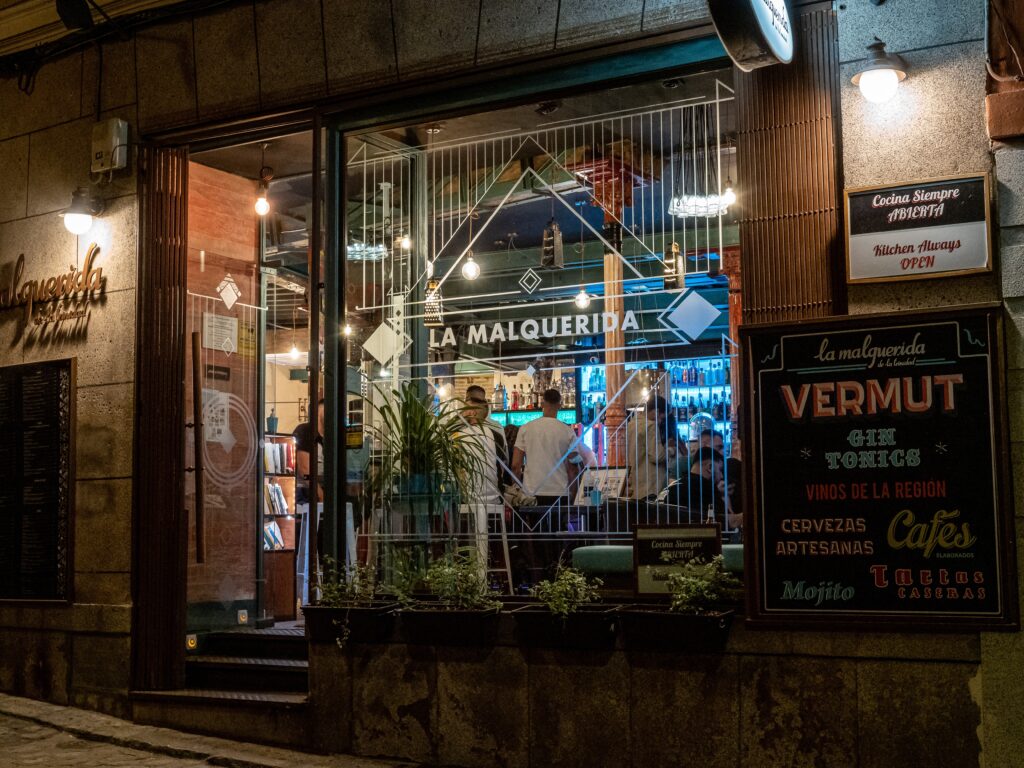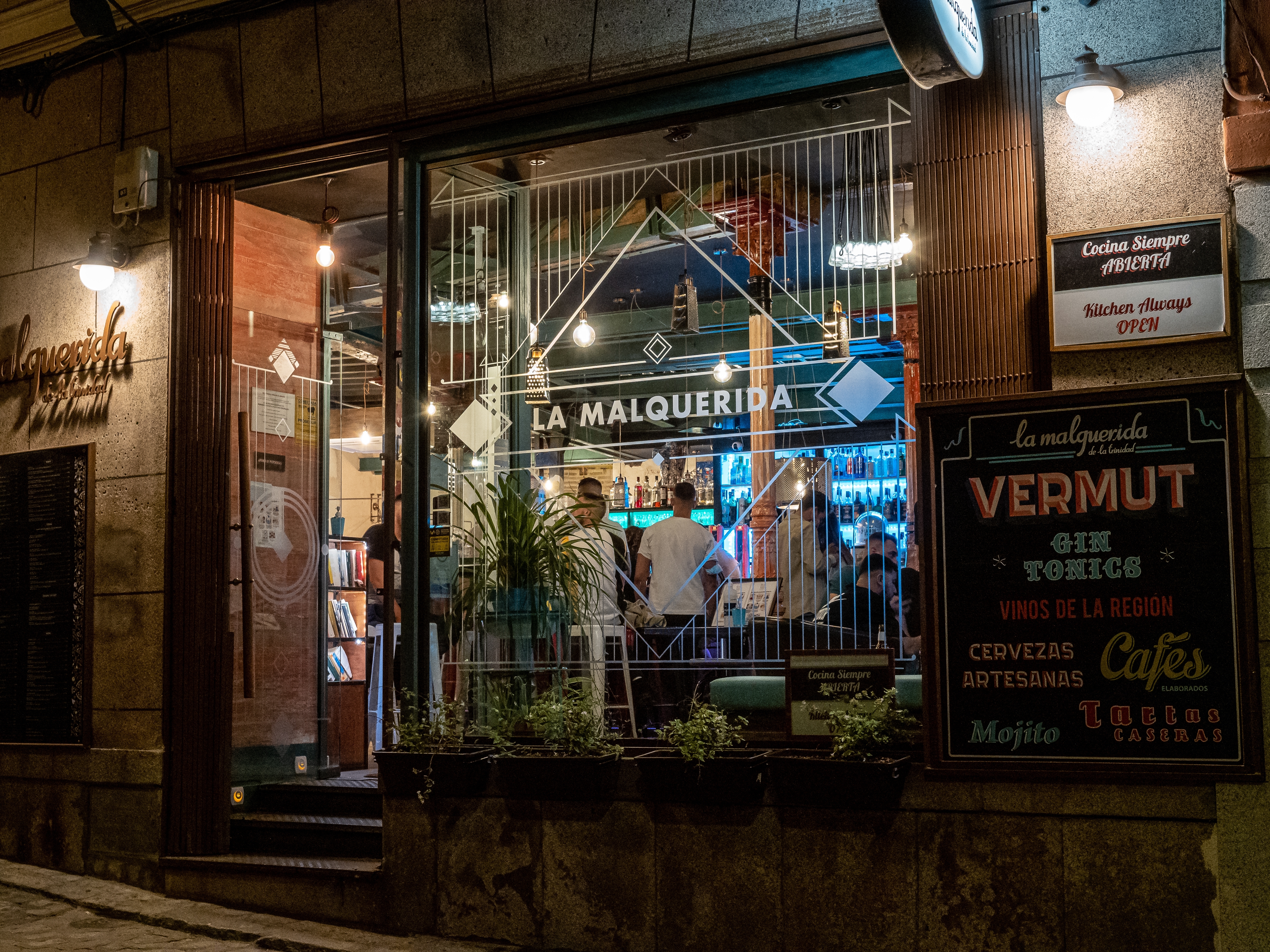 Nuevo Almacén 
These modern presentations of classic tapas, burgers, salads and sandwiches will check any desired lunch or dinner box. Think of it as a La Mancha gastropub. Nuevo Almacén has an easy to use website, so you can make a reservation on-line in advance of your visit. This restaurant group also has multiple locations throughout Toledo, some offering desayunos (breakfast) and a more focused, casual menu for other meal periods. 
Restaurant Plácido 
This restaurant has been a busy lunch spot for 75 years. To wit, I recently read James Michener's "Iberia," and he writes about having a splendid lunch here in the late 1960s! The classic menu offers regional fare that would be as recognizable to a local today as it would be when this institution first opened. However, most of the diners at lunchtime are there for the menú del día. Your options for the three courses (which can change day to day) may be limited, but of good value. Sit outside on their patio, which is covered, or sit on the terraza, in the old courtyard, which has a glass roof. Make a reservation ahead of time for peace of mind.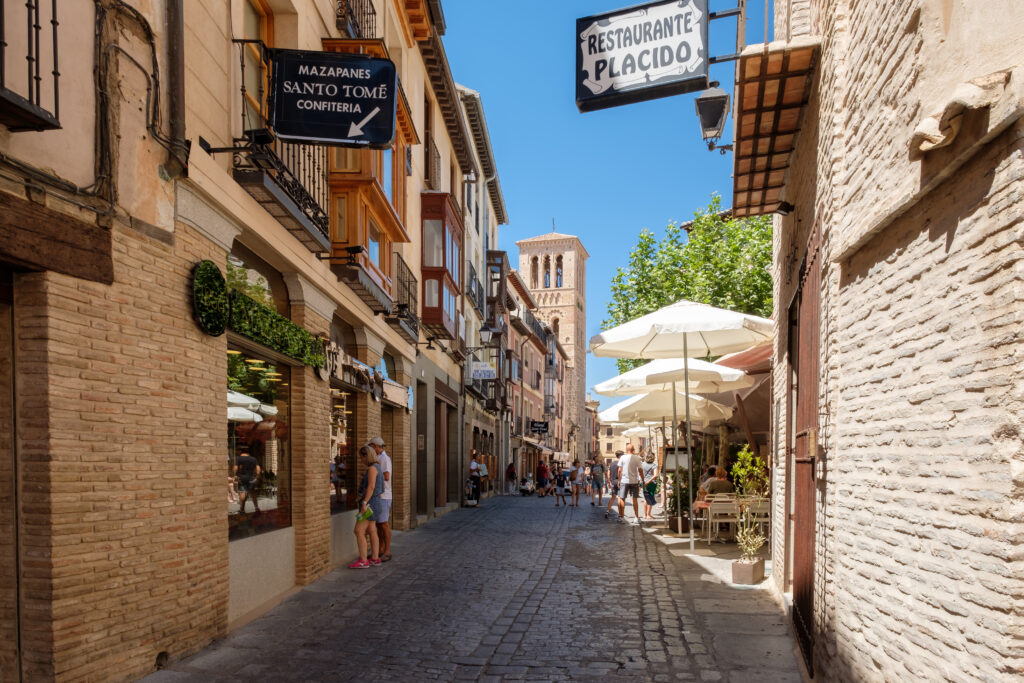 Confitería Santo Tomé
You will stumble upon multiple options for mazapan as you make your way around Toledo. But, Confiteria Santo Tomé is our favorite. For the uninitiated, mazapan is an almond flour confection with its roots over a thousand years old. Step inside the shop to see how many forms and colors this treat can take on. We like to select our walking-around mazapan and then pick out a few gift boxes to bring home. If we're being honest with ourselves, those gift boxes usually get devoured before they can be gifted. Original location is across the street from Restaurant Plácido and their marquee storefront is on Plaza Zocodover.