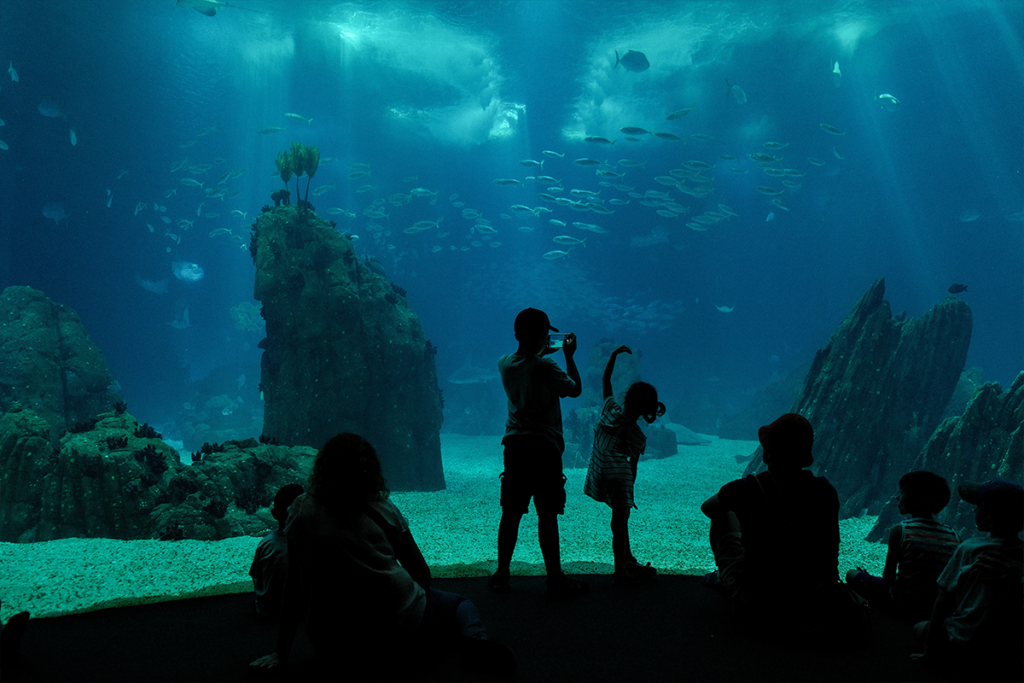 FOR THE CHILDREN IN ALL OF US
Admittedly, we at EFTF can get so caught up in vetting a tourist site's appropriateness level for children, that we can forget to investigate the inverse scenario. What about the places explicitly designed for children that adults will like too? In the case of Parque das Nações your family can spend an entire day in this area of Lisbon and appeal to the child in all of us. 
That child, inner or otherwise, can visit an aquarium and/or a children's museum and/or a gondola. They're all right next to one another. Pair the children's museum with the aquarium at your own risk. We look at this as an either/or proposition. Could you do Oceanȧrio de Lisboa (aquarium), Pavilhão do Conhecimento (children's museum) and Telecabine Lisboa (gondola) in the same day? Technically, yes. Pick one to enter at 10:00 am. Go to lunch no later than 12:30 pm and then decide if you have another one in you. It takes some effort to get out to Parque das Nações, so returning out that way is unlikely. Go big or go home? 
Olympiads, World Fairs and Expos are often sold to the public as a means to jumpstart some civic infrastructure that will be utilized well after the special event has completed its run. Results can vary between embarrassing (see Knoxville World Fair 1982) and impactful (see Barcelona Olympics 1992). File Lisbon Expo '98 under the latter.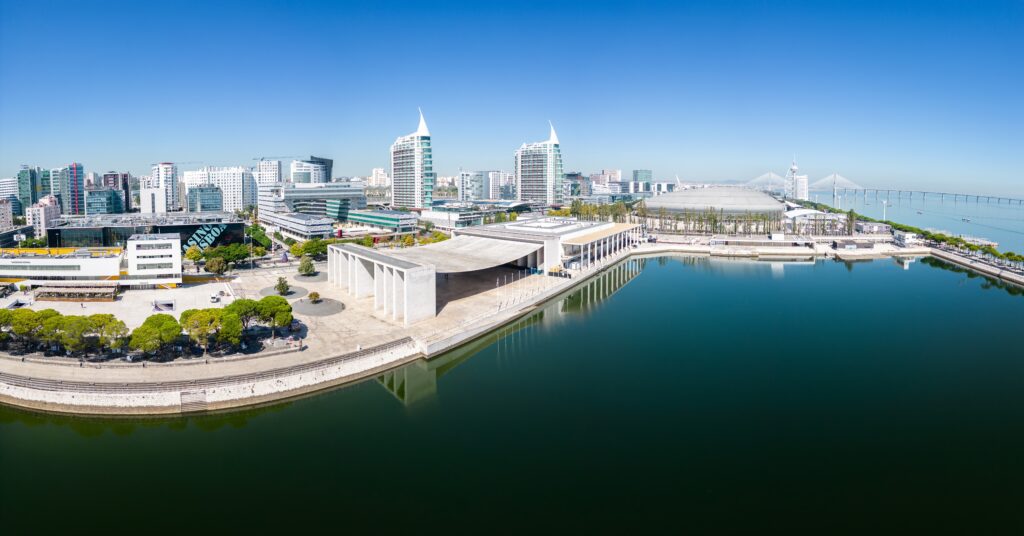 The Parque das Nações was created wholesale on a derelict riverfront area. It is now populated by a medley of modern architecture – a stark contrast to old Lisbon. For serious architecture fans, be sure to pass by the Pavilhão de Portugal, which has an impressive curved concrete span and alludes to the heyday of 1960s brutalism. It's also a fantastic echo chamber.
Expo '98 attracted over 10 million visitors (basically the population of Portugal itself) in its 4-month run. The Metro line that takes you to Parque das Nações and the Vasco Da Gama Bridge framing the area's backdrop are also testaments to the expo's success. 
Get to / Get Around Parque das Nações
The good news is that Parque das Nações is adjacent to one of the coolest intermodal stations you might ever see – the Santiago Calatrava designed Estaçao do Oriente. Nature informs the soaring steel and glass above while colorful pops of tile art decorate below. The other good news is that once in the area you can walk to your heart's content on flat surfaces without any hills to climb!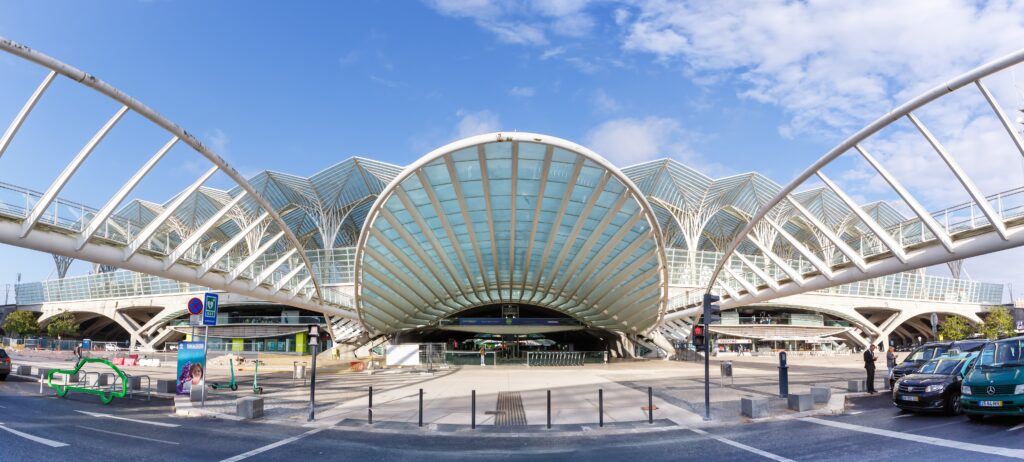 By Metro: Estaçao do Oriente is along the red line which terminates at the airport. If coming from old Lisbon, you will most likely have to change trains at Alameda. From Cais do Sodrés expect a little over half an hour. 
By Train: Comboios de Portugal is the network of commuter trains in Portugal. This would be an unlikely option if you are staying in central Lisbon. 
By Bus: 5, 25, 28, 44, 708, 750, 759, 782 and 794 all go to Parque das Nações AND stop at Lisbon's busiest rail station: Estaçao do Oriente. However, if you are coming from the touristic heart of Lisbon, your ride could take close to an hour and include upwards of 30 stops! You may want to reconsider this. 
By Taxi or Uber: This is a reasonable alternative to the bus or train. Depending on traffic this can take as long as a Metro ride. 
Oceanário de Lisboa
The theme of the '98 Expo was a little clunky: "The Oceans: A Heritage for the Future." Nonetheless, this world class aquarium existed as an especially popular pavilion in 1998 and remains the second largest aquarium in Europe. This architecturally interesting building is moored in the water like a futuristic maritime oil rig. 
Once inside, the signature feature is a multi-story central aquarium that changes aquatic life focus depending on what level you're on. There are rotating exhibits, off-shoot tanks to explore and an adorable wet-suit clad mascot named Vasco – if you're keeping track at home, 1998 marked the 500th anniversary of Vasco da Gama's famous expedition by sea to India. 
Open 10:00 am or 11:00 am; check the official website for details. 
Tickets are €22 for adults, €17 age 65 and over, €15 ages 3 – 12 and free ages 0 – 2. 
This is your chance to consider bundling your ticket with Telecabine Lisboa to save €3 per adult and €2 per child.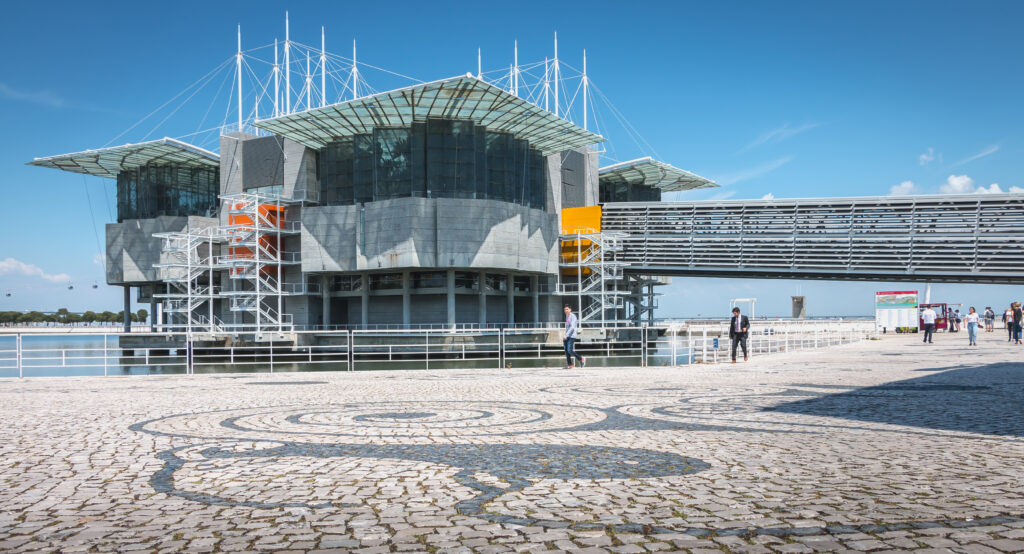 Telecabine Lisboa
After the calming darkness and sensory deprivation of the Oceanȧrio de Lisboa, ride the nearby gondola to reawaken your senses. Take a round trip flight over the expanse of Parque das Nações. If you look inland, you'll be able to see the airport nearby. This is apropos, because before the jet age they used to land seaplanes in the Tejo River, and the terminal was right below you! For a city with no shortage of "views," this 8-person cabin ride will still offer a unique perspective – especially since the nearby tall buildings are off-limits to the public. 
Opens 10:30 am or 11:00 am daily depending on the season. 
Roundtrip tickets combined with Oceanȧrio de Lisboa are €28 for adults, €23.50 age 65 and over, €19 ages 3 – 12 and free ages 0 – 2
Lunch
A lunch stop is in order after exploring the Parque das Nações by land and/or by sea. There is a nice spread of restaurants throughout the area. The operative word is "spread" here because they vary wildly in quality, fanciness and location. You could spend over an hour walking around studying restaurants in every corner of the park, but your best bet will be the casual restaurant row that you passed on your way here, between Alameda dos Oceanos and Oceanȧrio de Lisboa. You have to admit that you're a captive audience. 
Your options run the gamut from Honest Greens to McDonalds – from salads to burgers and everything in between. They all have pleasant, shaded outside seating with views of the water.
One key piece of information is that the Portuguese (especially the ones working office jobs nearby) eat lunch at precisely 1:00 pm, so anything you are considering here will swell with nearby business people, convention attendees and fellow tourists. In other words, eat early. 
Children's Museum aka Pavilhão do Conhecimento     
A good number of parents tense up at the idea of a children's museum. The parental mind conjures up visions of crowds, noise and germs. The so-called Pavilion of Knowledge features wide-open, well-maintained and cutting-edge facilities. The permanent exhibits are eye-popping (life-sized dinosaurs!) and are sure to intrigue everyone in the family. Toddlers will like it. Kids aged 4 – 10 will go absolutely bananas for it. 
There are rooms upon rooms of activities and an exciting rotation of temporary exhibits. Did we mention that it's clean? And it's in a spacious, modern building? There is a team of roving helpers engaging the children, explaining how to use the various activities. These team members exhibited endless patience and tolerance towards the kids on our visit. The exhibits are designed as clever means to showcasing scientific principles, but always with an angle on fun. 
There is a €28 family ticket for 2 adults and as many kids you have under the age of 17. Even if you only have 1 child, you save money. For individual tickets it's €11 for adults, €8 age 65 and older, €8 ages 3 – 11 and €9 ages 12 – 17. Be sure to save your ticket after entering because you have in and out privileges for the rest of the day with it (necessary for using the restrooms).
Open 10:00 am daily; closed Mondays. We recommend showing up right when Pavilhão do Conhecimento opens, spend a solid two hours and then go to lunch. Return after lunch for unfinished business if necessary.