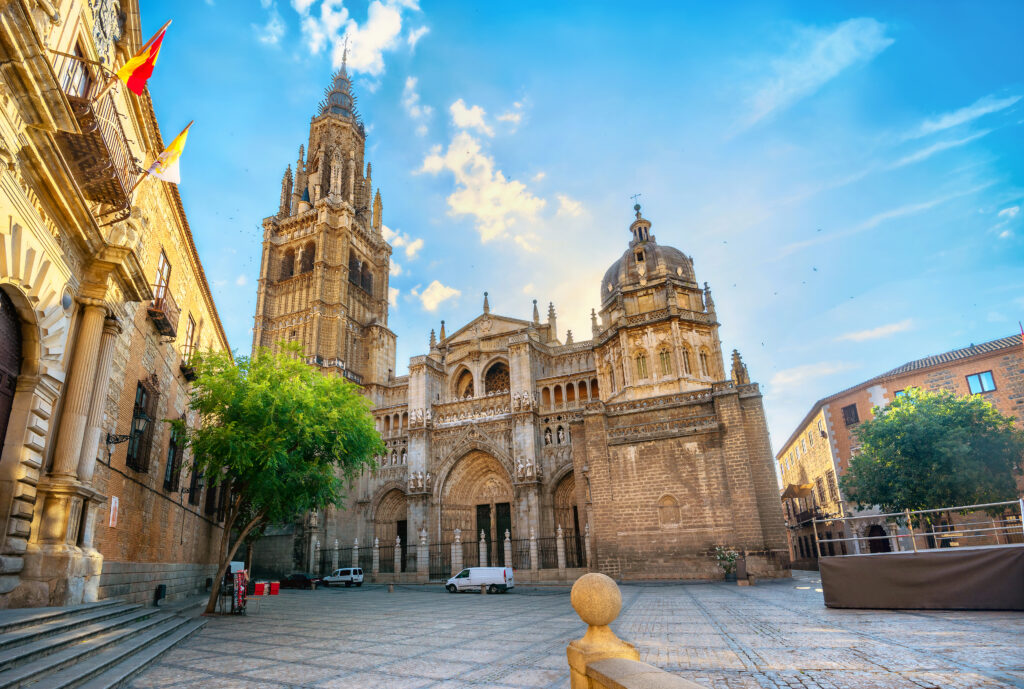 When walking around Toledo, don't blink, because you might miss another church. The number of churches in Toledo is a point of city pride and integral to its history. For the visitor, the sheer number of churches, 15 active, can be, dare I say, dispiriting. Include temples, synagogues, old mosques and ruins of other assorted holy places and the number nears 30. It's so densely packed with places of worship that it is impossible to imagine that there is any debate as to the origin of the phrase, "Holy Toledo." Sorry, Ohio.  
Even if you are spending our recommended two nights in Toledo, you won't be able to see every church in town. Quite frankly, you won't want to. See too many churches and they start to blend together in a melee of flying buttresses and robed figures washing over you like a Gothic fever dream. We've composed a list of holy places to visit in Toledo ranked from obligated to optional – just like holy days.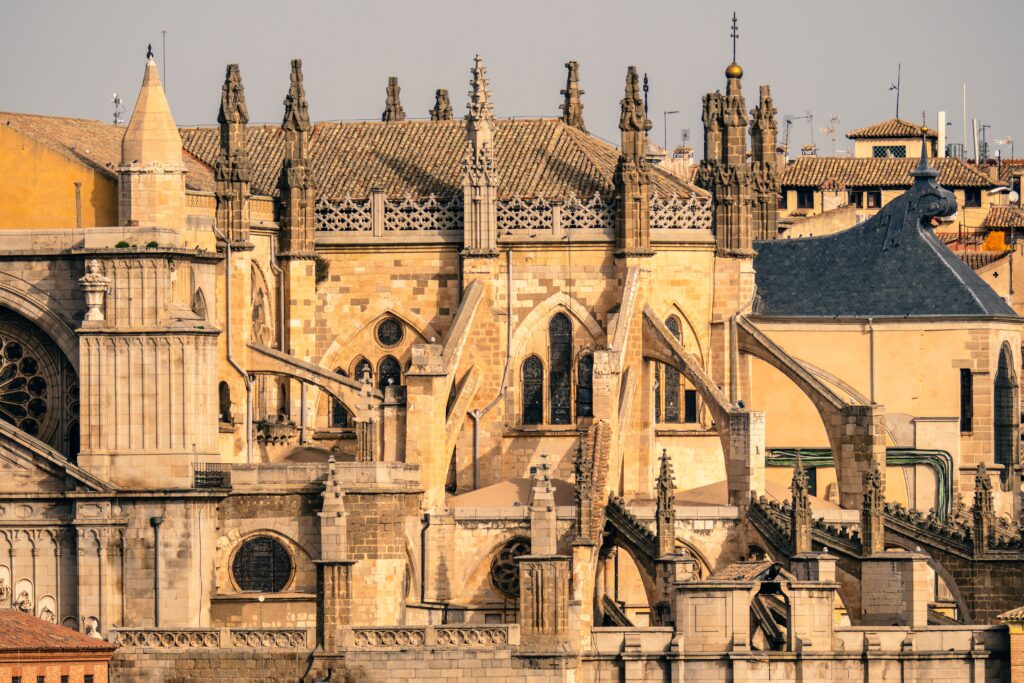 Toledo Cathedral
When a cathedral's construction is measured in centuries of time, you know it's going to be something special. This cathedral is on a very short list of top European Gothic cathedrals. Tickets can only be purchased on site, so you will want to arrive by its opening time of 10:00 am (Monday through Saturday) and take your time exploring the space. Strollers are welcome as it is all on one floor (except for the climb to the bell tower). Admission is €12.50 and be sure to grab an audio guide, which is included with your ticket.  
Monastery San Juan de Los Reyes 
Ferdinanad II and Isabella I, Los Católicos, asserted their Catholic-ness on the battlefield against the Moors and commissioned this construction to assert their Catholic-ness in what was then the Jewish Quarter of Toledo. Save this stop for when you need a break. Sure, there's a church to behold, but the real draw is the courtyard and garden surrounded by two levels of cloisters. It is a tranquil reprieve from the warren of busy streets outside. Amble the cloisters, note the attention to detail and contemplate life as a medieval monk here, not a bad gig. €3 grants you access to this little slice of heaven. Other than the stairs between cloister levels, the monastery can be navigated by stroller.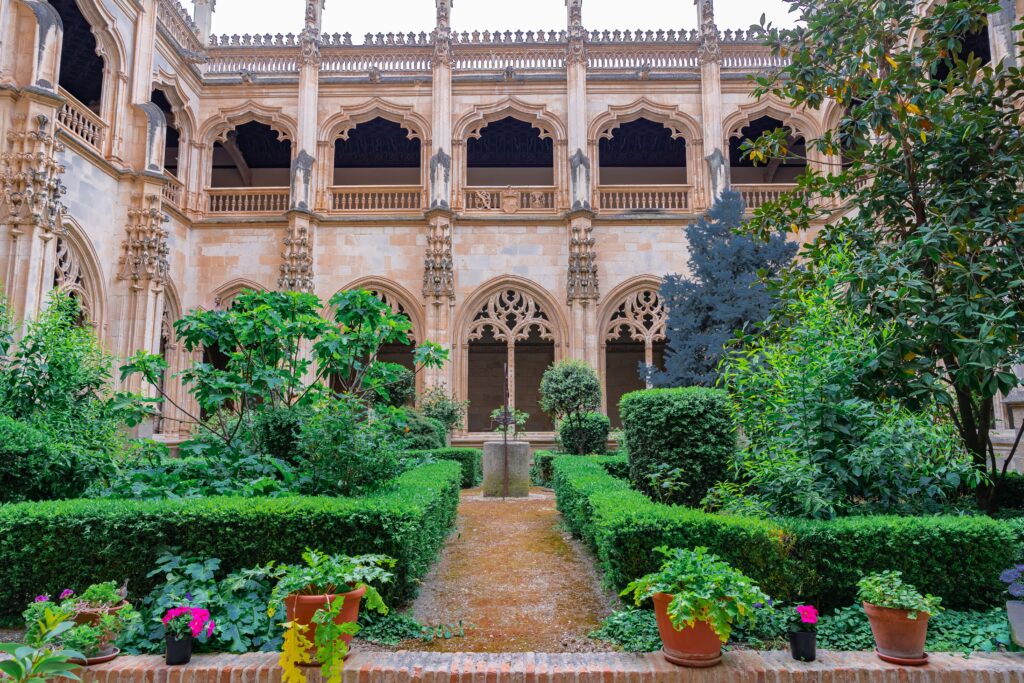 Santo Tomé Church 
This is a pop in situation. You are here to see the El Greco masterpiece, "The Burial of Count Orgaz." You can read more about El Greco and this showstopper of a painting here. Santo Tomé is open at 10:00 am every day of the week and closes in the early evening. For €3 entry fee you can spend 3 minutes or half an hour gazing upon the piece. In the nearby Parque de Tránsito there is a pleasant mirador (lookout) and children's playground. This is a potential 'Divide & Conquer' situation for parental units to enjoy Santo Tomé individually while the kids play in the park. 
San Ildefonso Church
€3 to see another church? Well, with no offense to the Jesuits who founded this church, you're not here to see the interior of the church at all. You're here for the (kinda) secret rooftop access that your admission fee grants you. Ditch the stroller discreetly among the pews and head up to the stairs for a pigeon-eye view of Toledo. If you thought the roads were a medieval mess at ground level, try to find breaks in the terracotta rooflines and trace roads to the Alcazar strategically crowning the highest ground. There is a pleasant little parque infantil across from the church in Plaza del Padre Juan de Mariana to enjoy afterwards.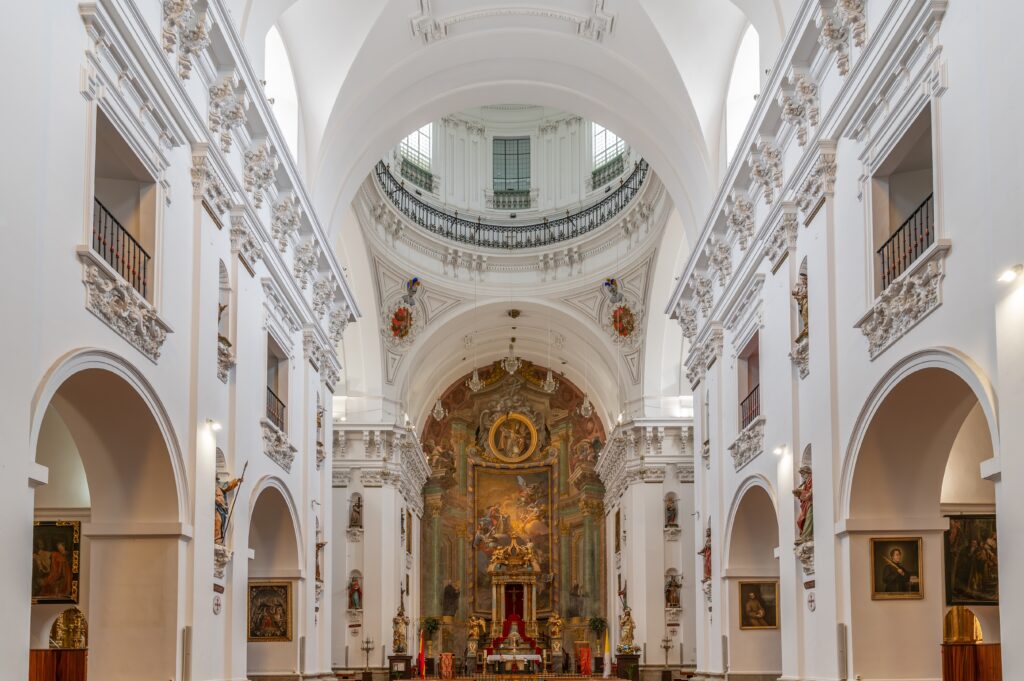 Antigua Mezquita del Cristo de la Luz
Pity the contractor in Toledo where every jobsite has the potential to become a full-fledged archaeological dig. Cristo de la Luz illustrates how the Roman, Visigoth, Muslim and Christian cultures integrated and/or built right on top of one another. The layers of these cultures are cleverly shown beneath existing floors and beyond exposed walls. There are lots of tight spaces and stairs. It wouldn't be appropriate for a fleet-footed toddler. Perfect for a baby strapped to you, however. €3 
What is the Pulsera Turística de Toledo? 
Did you notice the last four churches were each €3 admission? Did that strike you as coincidental? That's because they are all part of the Toledo Monumental, a collection of seven Toledo monuments that can be accessed with a red wristband (pulsera turística) for €12. We've recommended four so far. Go to a fifth and you might as well purchase the red wristband at the municipal tourist office in Plaza del Ayuntamiento. Proceed to the remaining monuments El Salvador de Toledo Church, Santa Maria Blanca and Real Colegio Doncellas Nobles to complete a comprehensive holy tour of Toledo. The wristband is good for as many days as you can keep it on your wrist.