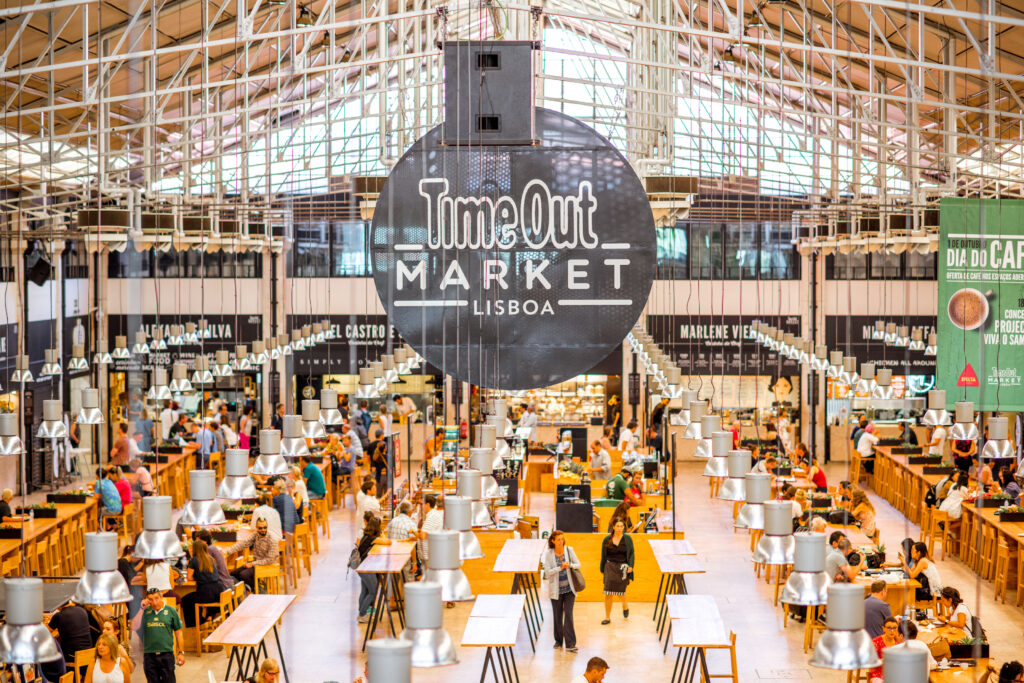 When we first set foot in the Time Out Market Lisboa in 2017, our jaws dropped to the ground. Here was a curated round up of all the best restaurants and food purveyors from Lisbon all under one roof. Our first thought was, why doesn't every city do this? (This is where Singapore might chime in and say, "Um, we've been doing this forever.") At that moment, however, it felt new and exciting. Time Out Market Lisboa opened in 2014 on the face of a breaking wave that has since crested and rolled onto shore – there are now over 100 food halls in Europe and over 400 food halls across North America. 
We've established that Time Out Market Lisboa isn't the first food hall, but it is the first of the Time Out brand. Time Out has existed as a goings-on, where-to-eat magazine in 100s of major markets around the world for decades. If it was good, it belonged in the magazine. Now, if it's great, it belongs in the Time Out Market. The Lisbon editors used their intimate knowledge of the city to hand-pick the best of the best.
Moving beyond the concept, the location is also a jaw-dropper. Set inside one half of the historic Mercado da Ribeira, Time Out Market Lisboa feels like it belongs there, a natural in its home. The other half of Mercado da Ribeira, incidentally, is an actual market complete with fishmongers, butchers, produce vendors and florists. The convenient location is adjacent to the busy Cais do Sodré train, bus, boat and metro station. This places the market at sea level, an easy walk from other spots along the Tejo River such as Praça do Comércio.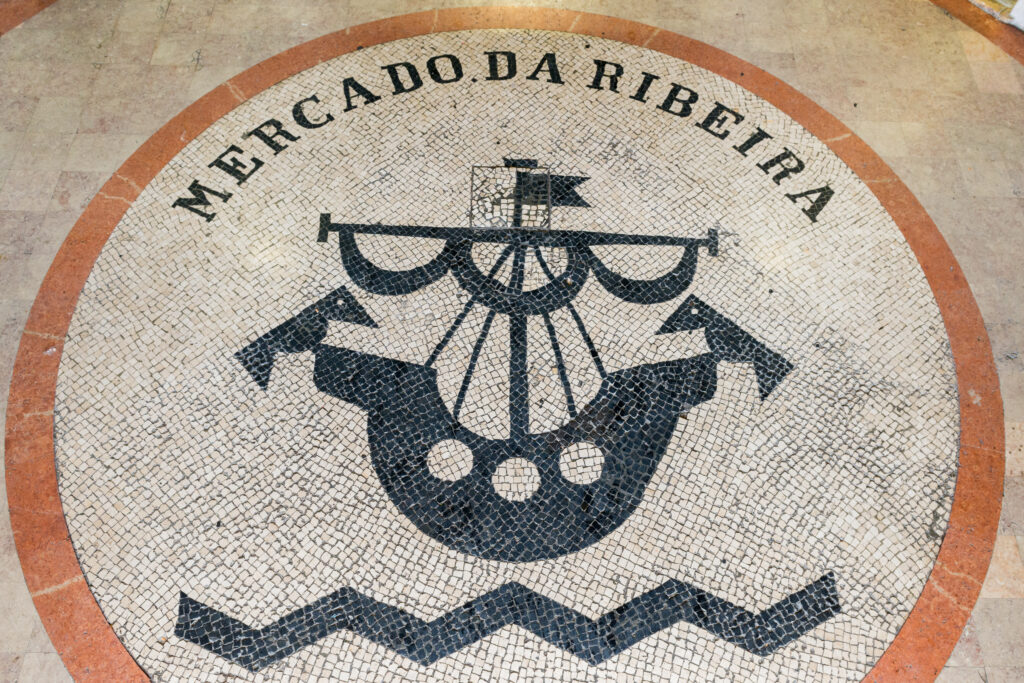 Once inside, look around. See the people. Hear the din of noisy diners. You are in a safe place, for you don't have to be self-conscious of the scene your kids are capable of making. There's even a family bathroom!
It's a romantic notion to roam the fifty or so different vendors and then select what you want to enjoy. And, it's a rare opportunity for the family to NOT have to agree on where to eat. You can theoretically pull from five different places and dine on disparate cuisines (sushi, hamburger, prego sandwich of cuttlefish, bacalhau, and handmade buttered noodles). It's not a very efficient use of time, but you could do it. This may require a 'Divide and Conquer' approach. One gets the food and the other does something pragmatic like find some beer and find a table.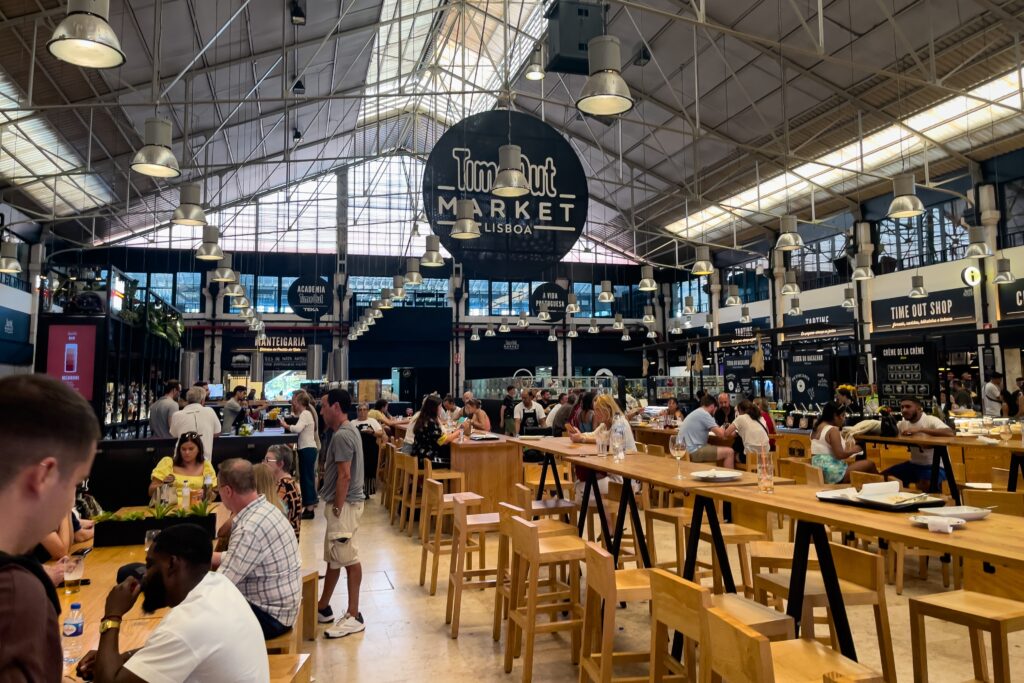 Time Out Market Lisboa is open 10:00 am to 10:30 pm daily and is often very busy. Peak business is mid-afternoon from 2:00 pm to 4:00 pm. Tables are communal, so staking out some real estate is essential. There are a finite amount of high chairs that get stowed in the wings of the venue. If finding a seat is challenging, simply get food for take-away and make an impromptu picnic nearby. Of note: there is also a legitimate family restroom with a changing table. 
As for distinctive recommendations, we're partial to the fried cuttlefish sandwich from Michelin-starred chef Henrique Sá Pessoa. We should also mention the fresh made pasta at Libertá Pasta Bar, where we've begrudgingly splurged on buttered noodles. For treats, don't miss Manteigaria, in the running for best pastel de nata in the city. Not sure you can consider pastéis that are made off-site – alas, these are served warm from the oven – EFTF approved!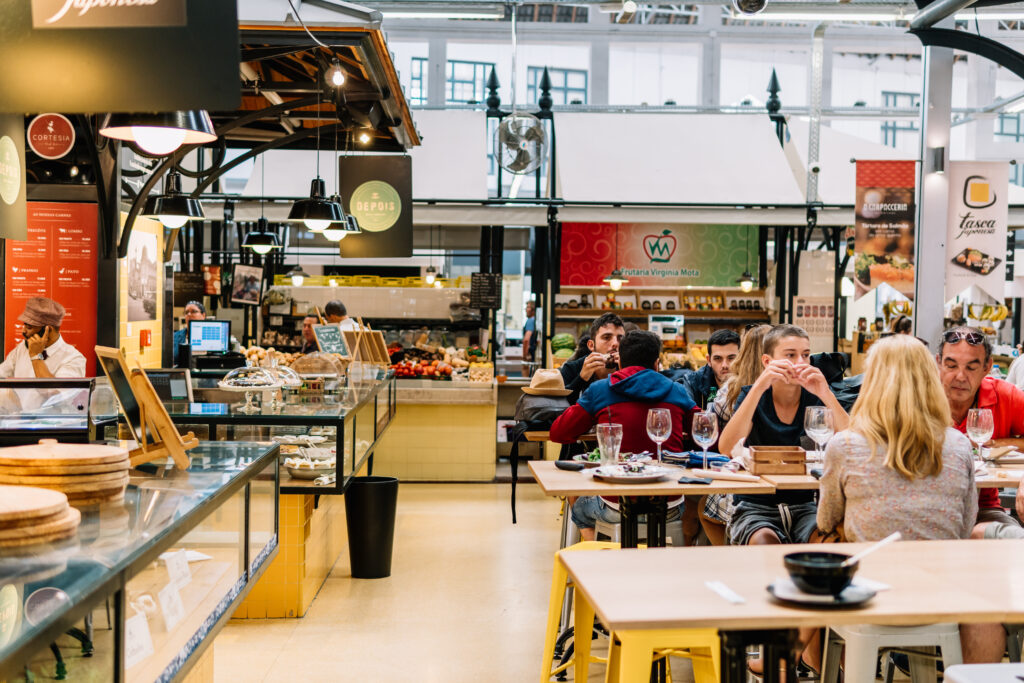 As much as we like the variety of the Time Out Market Lisboa, it can be a bit chaotic. An alternative, low key option is the Mercado de Campo de Ourique which also blends food hall with classic market. There are fewer restaurants to choose from, and some vendors are closed Sundays and Mondays, but the setting is much more orderly. Of note: Churrasquinho do Bairro has traditional Portuguese plates and generous wine pours. There's a Gleba, which is one of the most outstanding bakeries in Lisbon – always baking with local grains, milled in-house.