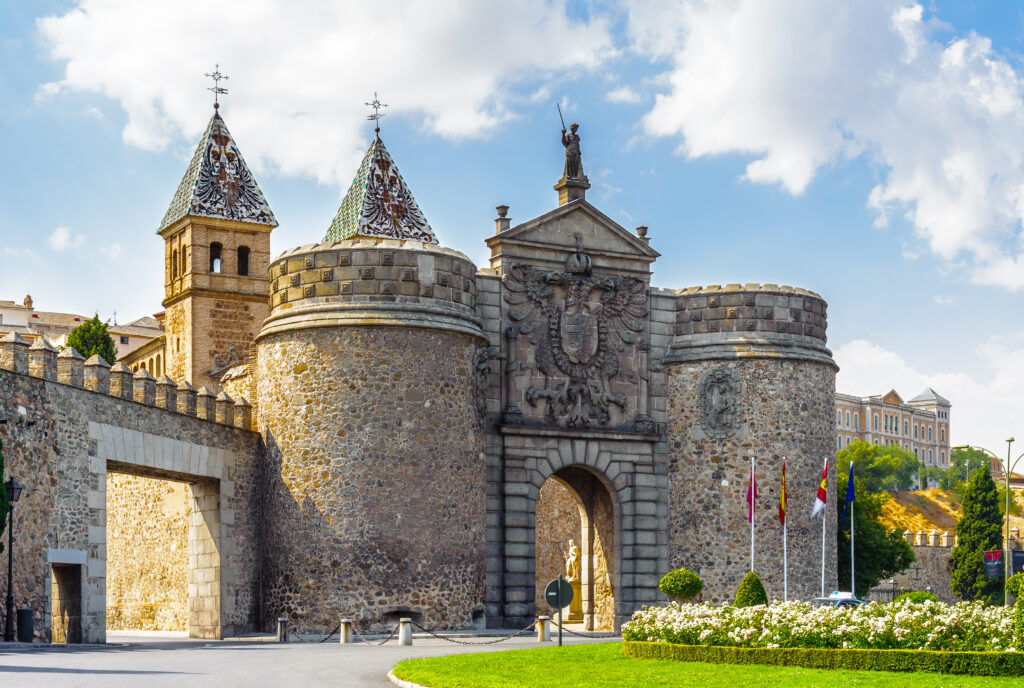 The entire city is a UNESCO world heritage site – the entire city! There isn't a single modern structure to be found within the city walls. If you could transport a Toledan from 500 years ago and drop him or her off in Plaza de Zocodover, the time traveler could find his or her way home (and then wonder who rearranged the furniture).  
It's become rote in travel guides to suggest Toledo as a day trip from Madrid. By matter of proximity, it certainly fits the profile. Toledo is a city of historical, architectural and cultural interest that can be reached in less than an hour from Madrid. The traveler can be whisked to a walled medieval city after breakfast and return to the bustle of Madrid by nightfall. But, we believe you would be doing yourself a disservice to fall into this day trip trap.  
Toledo: More Than a Day Trip?
Consider Toledo for two nights. Better yet put those two nights at the beginning of your trip, when you first arrive in Spain. That's right, make Toledo your first stop in the country. There's too much to experience in Toledo in a single day. Open yourselves up to be charmingly immersed.  
The first reason is tactical. If you are contending with jet lag, a provincial town is the place to ease into Spanish life. Compared to Madrid, nightlife tends to begin and end a little earlier. So, when you hit that inevitable first-day-wall you won't feel like you are missing anything. Plus, when you wake up (probably ridiculously early) you can take a leisurely stroll, take your kids to a playground, eat breakfast and still be the first ones in the Toledo Cathedral, which notably does not sell tickets ahead of time.  
Toledo swells with tourists every day. You can almost feel the medieval walls busting at the seams by early afternoon. But, by dusk a quieter, subdued Toledo emerges. Those crowded cobblestone roads become a private echo chamber. There is something romantic about hearing your own footsteps reverberate, adding to a centuries-long cacophony of boots, horse hooves and swords removed from hilts. Once upon a time, Toledo closed its city gates at night. Although not technically true any more, you will feel that sensation at night, inside a walled city.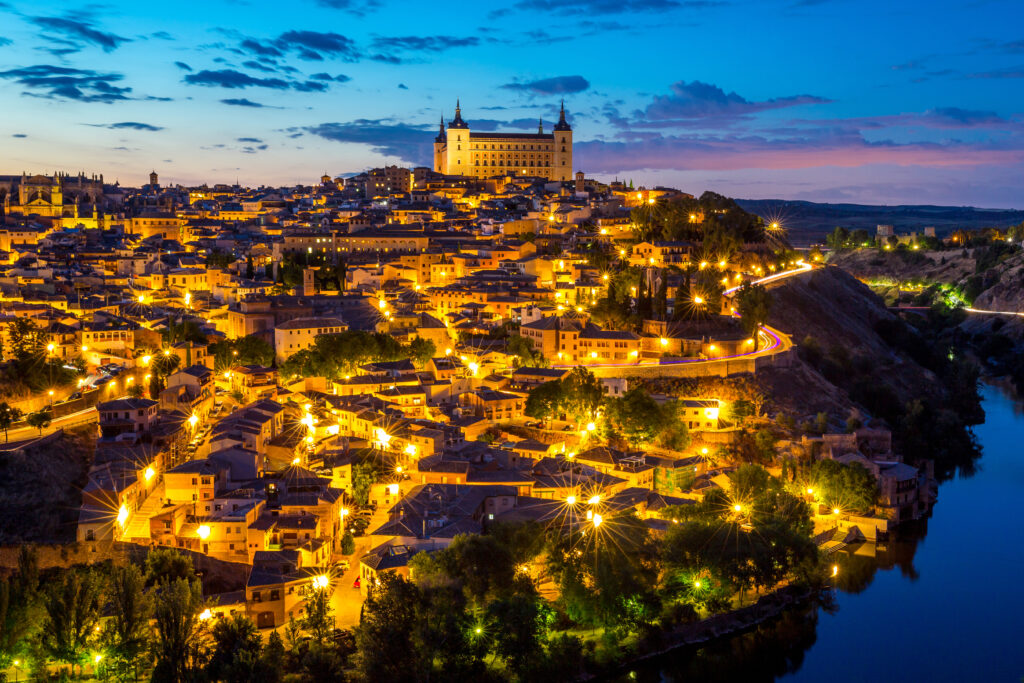 We promise your first attempt navigating the byzantine layout of the streets will foil you. This is another reason to stick around for a while. Get to learn your way around purposefully and accidentally. No matter where you are in Toledo, it's always a 15 – 20 minute walk end to end. So, you can't get THAT lost.  
Finally, Toledo is so compact and postcard perfect that it needs to be appreciated from inside and from afar. Check out our Three Ways to See Toledo Outside the City Walls. 
After two nights, we hope you will have connected with Toledo in ways the daytripper can never know.  
Get to Toledo
Train, bus and rental cars will only get you so far. These modes of transportation dispatch you outside and below the historic city center. Like a would-be invader from centuries ago, you need a plan to get beyond those city walls.  
Train: High speed Renfe trains leave Atocha about once per hour. It's the same frequency on the return trip. Expect to pay about €14 each way and it's wise to purchase your tickets ahead of time. The Toledo train station is itself a remarkable piece of architecture. Its current incarnation is over one hundred years old and reflects the meld of cultures you are about to experience in Toledo.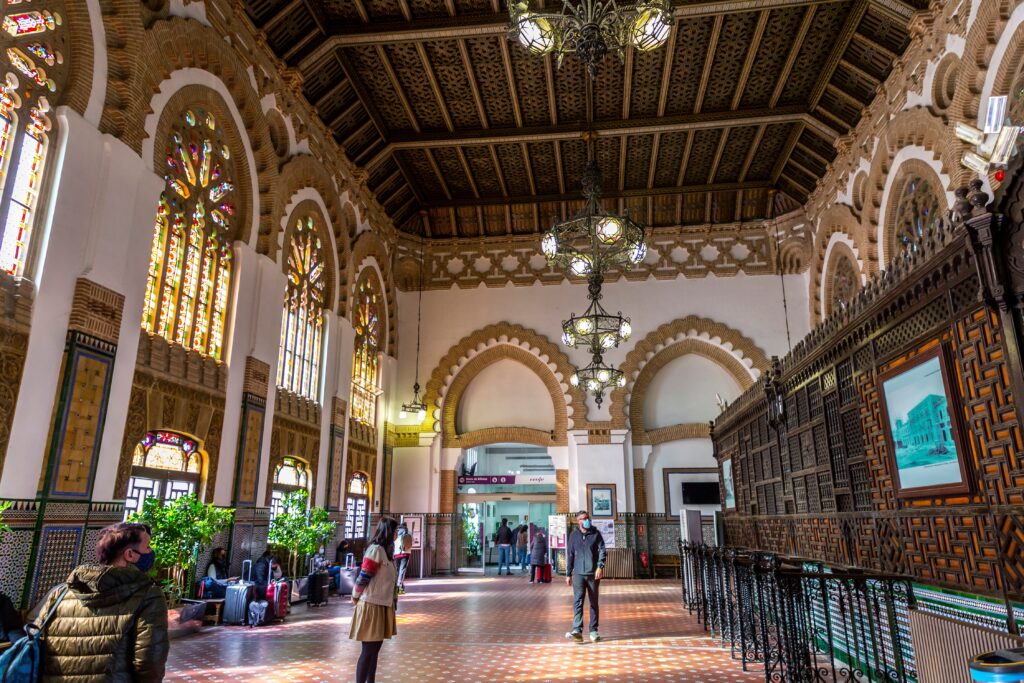 Bus: The ALSA bus company operates service to Toledo multiple times per hour, winding down operation before midnight daily. It's less than €6 each way. From Madrid you will need to make your way to Plaza Eliptica, a Metro Stop on the gray and green lines.  
Rental Car: There are several public car parks clearly marked just outside and below the city gates of Toledo. You will not be able to enter the medieval city center in a car. Once you start walking around inside, you'll see why.   
Get Around Toledo
Now that you're so close to Toledo, how do you get into Toledo, past her city gates? Please note that once you're in Toledo there is little option but to walk. So, let that inform your decision.  
Taxi & Ubers: You can catch a quick taxi from the bus and train depots. It will get you almost anywhere in the city for less than €10. It is unlikely they will have any sort of car seat, however. Ubers don't exist in Toledo – chalk one up to the taxi guild! 
Walk: You see the city there. Just walk to it. We recommend walking the half hour or so into Toledo proper as it will set the tone for your day. Take whichever road or staircase you see fit – they all lead up! You may or may not experience flop sweat. Full disclosure: we once ruined a suitcase dragging it up the many stone steps and cobblestone streets outside Toledo.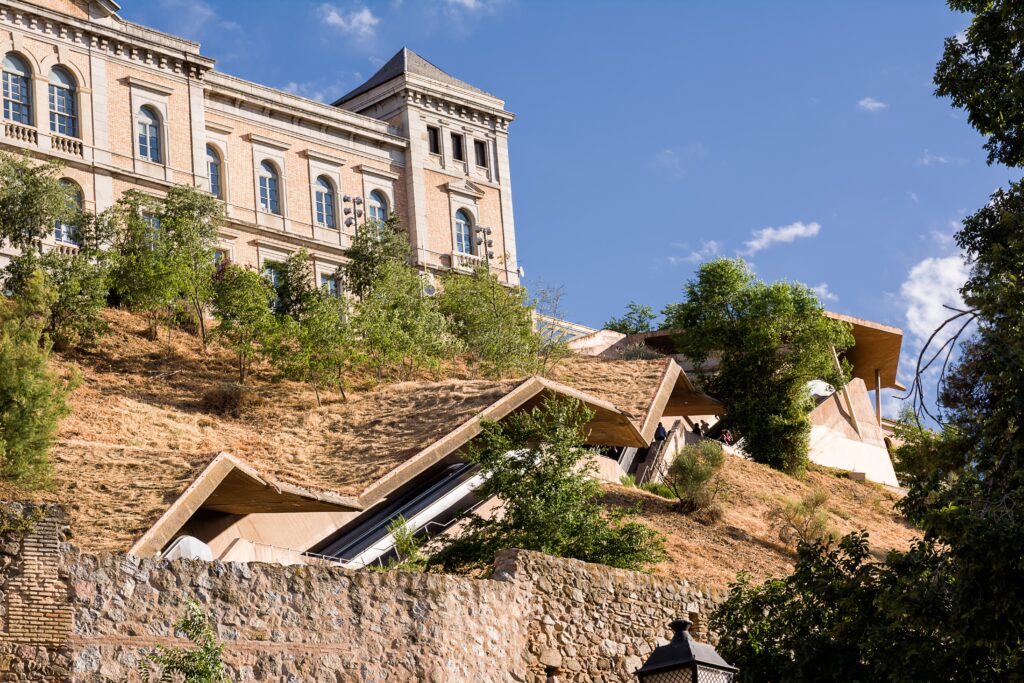 Escalator: There is an escalator that will plop you right into town. From the train station walk across Puente de Alcántara and stay right and remain on ground level until you see a sign for Remonte Mecánico de Safont. If you're coming from the bus terminal or most of the public car parks, it's more of a straight shot down Av. Castillo la Mancha.