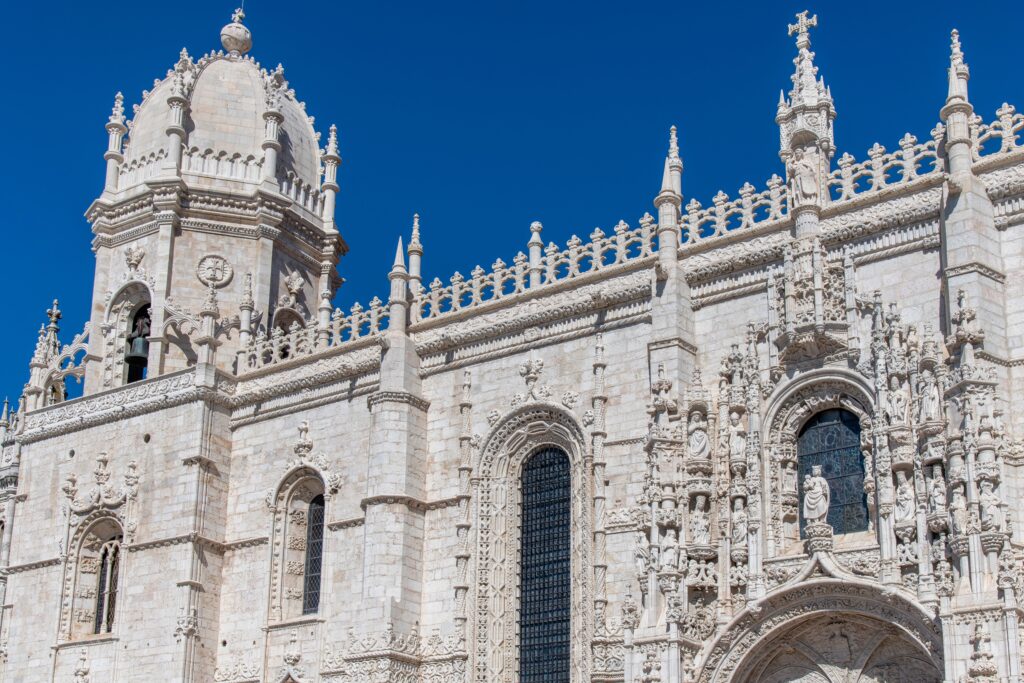 I often overhear tourists kicking around the idea of going to Belém, as if it's some place to go on a whim. Sure, technically you can go there whenever you like. But, EFTF has a plan to get you in and out of Belém before most people have thought about going for the day. Kids don't like the concept of long queues, and you'll kick yourself knowing they could've been avoided.
Now part of Lisbon's sprawl, Belém used to be the end of the civilized world. Once upon a time, looking out at the Tejo River, one would have had the busy ports of Lisbon to the left and a series of fishing villages to the right as the river gave way to the mysterious Atlantic Ocean. With a spark, Portugal was positioned to be a seafaring power. 
That spark was ignited by Prince Henry the Navigator and that flame passed to Vasco da Gama and Ferdinand Magellan. 
With piety intertwined with seafaring fortune, a simple monastery and church grew into one of the most impressive compounds of Renaissance Europe. And the area of Belém never stopped paying homage to Portugal's nautical history.
Luckily, Belém is less than 10km away from anywhere in central Lisbon. The options are all pretty quick. We prefer the 15E tram, which whisks you to Belém in less than 20 minutes. If you leave early enough, as we suggest, these modern double-length trams have lots of space for a fully deployed stroller. Single tickets can be purchased on the tram for €3 in cash or €1.65 with reloadable cards. 
Do not visit Belém on Mondays because you will find most of these attractions closed. Your "Big Day in Belém" will become a "Wee Little Day in Belém." 
Our plan calls for an early start, catching a 15E tram around 8:00 am. There are two reasons to consider this early bird strategy. First of all, you will have the monastery to yourself, at least for a little while. Secondly, the area outside the church becomes a congested bottleneck by mid-morning as tour groups and swarms of other tourists queue up for entry. Bedlam in Belém! But, first a little breakfast (or second breakfast) treat…
Pastéis de Belém
You will see a little custard tart dashed with cinnamon and powdered sugar called pastel de nata all over Lisbon. Belém claims to be the originator of this confection, so they dub theirs the pastel de Belém, or pastéis de Belém in plural form. The restaurant Pastéis de Belém is an institution, so its tarts are measured against all the other ones in Lisbon. It is your duty as a visitor to have an opinion on this debate.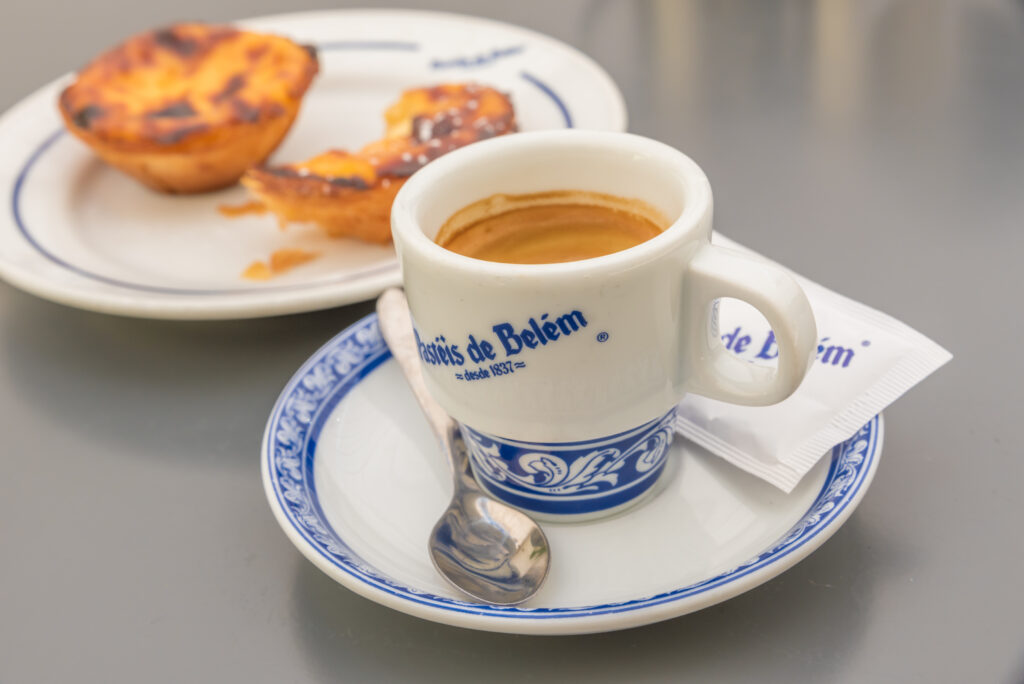 As legend goes, the tarts used to be made at Jerónimos Monastery by lay bakers. But, when the monastery was shuttered due to a revolution, an enterprising Brazilian by the name of Domingo Rafael Alves bought the recipe from an out of work baker and set up shop where you are today. 
The recipe is a closely guarded secret, as only three people in the world know it. The process, however, is very much on display. You can watch the kitchen operate behind a glass wall where workers bake over 20,000 pastéis per day. 
How much of a dent can you put in that production? We recommend getting a table, ordering coffee and fresh squeezed orange juices to accompany the tarts. When it gets to be a little after 9:00 am, ask for a conta, pay your bill and head across the street.
Jerónimos Monastery 
This monastery was run by the monks of St. Jerome for centuries – hence the name. It is the primary draw for tourists to Belém and a UNESCO World Heritage Site. It is a stunning piece of architecture that radiantly shows off its white limestone façade. It shares an address (and a wall) with the Santa Maria Church of Belém, which is important to note because the church is free to enter and the monastery requires timed tickets, which we recommend purchasing up to a month in advance of your trip. 
You can purchase tickets for €10 on-line from the official monastery website. You can select half-hour windows in which to enter. We recommend being in the first wave of entry at 9:30 am. Ideally, get in line outside by 9:15 am. If you have a stroller, you may opt to leave it by the ramp once your tickets have been scanned. 
You will notice the term "Manueline" thrown around to describe the architecture. There isn't much Manueline architecture outside of Belém because other examples were destroyed in the 1755 Lisbon earthquake. So, if you lock in the gist of Jerónimos Monastery in your mind's eye, you'll know what everybody is referring to. The ornamentation suggests Gothic, but the motifs are seafaring. More anchors, ropes and seashells. Less gargoyles. Arches aren't as pointy. And, the king who commissioned all of this was named (wait for it) Manuel I. 
Behold the monastery to end all monasteries! Not only is it (arguably) the best preserved monastery in all of Europe, it magnifies all the ornamentation on the façade by a factor of 10. The cloisters are literally dripping with detail. Every nook, cranny and arch has a coat of arms, a Christian symbol, nautical creature or seafaring instrument to consider. Hopefully, you can find some monk-like peace among all the architectural action.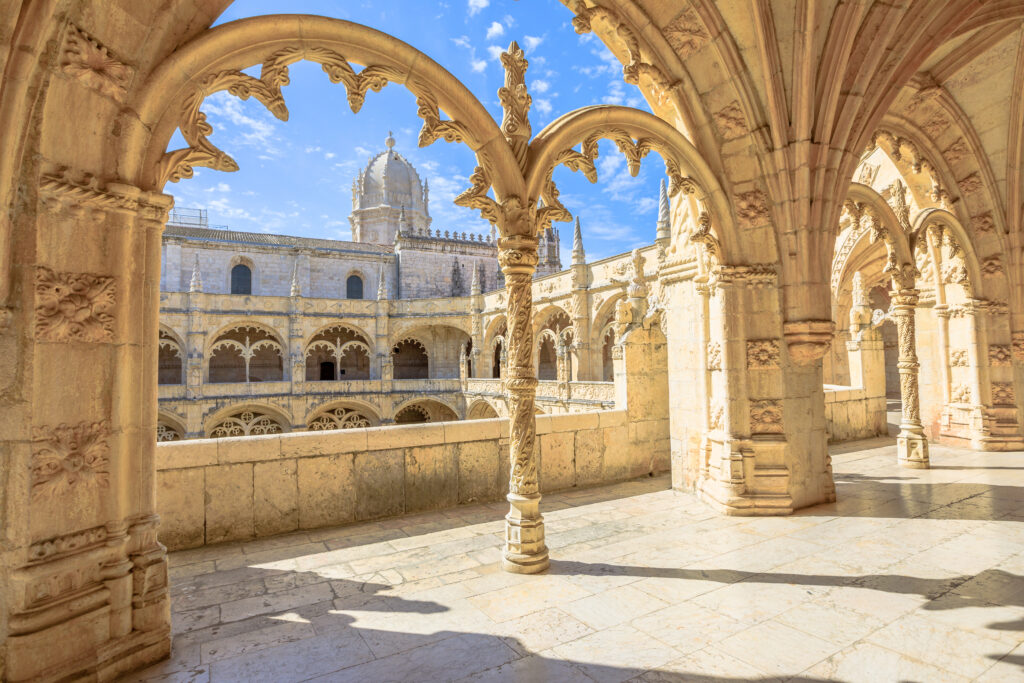 Here's the key. If you spend an hour in the monastery with children, you can be the first to enter the neighboring church. Milk it. If you have some toys or other distractions, this is the time to deploy them. Everybody should go potty. Diapers can be changed. Do not leave until right at 10:30 am. 
As you depart the monastery, you will notice many more people outside than when you entered. There are now two different roped off lines: monastery to your right and church to your left. The church line is just about to open, so make sure a guard notices that you have small children in tow and would like to see the church. Be extra nice, they don't have to let you skip ahead, but it is our experience that they will let you. Don't leave the roped-in area or you will be John Q. Public again and have to wait in line. 
You do not want to miss the church! Santa Maria is where centuries worth of sailors began and (hopefully) ended their treacherous overseas journeys. Perhaps that is why the church is built so broadly – replicating the vastness of the seas – as the sides of the cross-like layout are as tall as the nave. As impressive as the church's size might be, the devil beauty is in the details. Upon closer inspection, much of the ornamentation is again nautical themed. 
All that praying must have worked for Vasco da Gama. He famously prayed here before setting out on his first voyage to India. Trade routes were set up by sea, around the Cape of Africa. A portion of the fortunes that poured back into Portugal (specifically, a tax on pepper) was used to expand this monastery and church. Ultimately, it earned da Gama the right to be interred here.
Now What?
You've accomplished so much and it's barely 11:00 am. You can afford to take stock of your family's status. Do you have more walking in you? Then proceed to the Age of Discovery Monument. If you still have legs after that, head up to the Tower of Belém. You could head to any of the parks or gardens across the street and relax. There are plenty of benches and green spaces, if you had the foresight to pack a picnic. The day is your oyster. You can also call it a wrap on Belém and head back to Lisbon on the 15E. You're on bonus time now. 
Should you want to keep exploring, this is the time to make a decision about lunch. If you walk all the way over to the Tower of Belém, your lunch options will be non-existent. We recommend grabbing a picnic lunch from either Pão Pão Queijo Queijo or A Padaria Portuguesa. The name of the restaurant, Pão Pão Queijo Queijo, translates to "bread, bread, cheese, cheese," but it is a colloquialism for "what you see is what you get." You can select classic sandwiches and salads from the glass case and be on your way. A Padaria Portuguesa is kind of the Panera of Portugal. They have offerings behind the case, which can be toasted or panini-pressed to your liking. Those in the know order a pão de deus misto. It's one of those things that sounds like an odd pairing but just works. It's a ham and cheese sandwich on a brioche roll with a coconut/sugar/milk topping. Sweet with a hint of savory. 
Age of Discovery Monument
This austere monument juts out over the river. A tunnel takes you under two major roads and train tracks and opens up on a giant compass rose. The impressive compass beneath your feet reinforces the theme of the monument. "Age of Discovery" was built to commemorate the 500th anniversary of the death of Henry the Navigator. 
It's a romanticized notion of exploration, with Henry on the bow of the monument facing the unknown. He holds a caravel ship in his hand. These nimble Portuguese ships made his exploration of Africa's western coast possible. Statues flank the east and west sides of the monument and represent kings, queens, other explorers, cartographers, poets and writers who "support" Henry. What's fascinating about those representatives is they span over two centuries. Things evolved so much slower then, even with cutting edge sailing technology. Da Gama didn't sail around Africa until 40 years AFTER Henry's death. Magellan made his infamous journey around the world another 20 years AFTER THAT.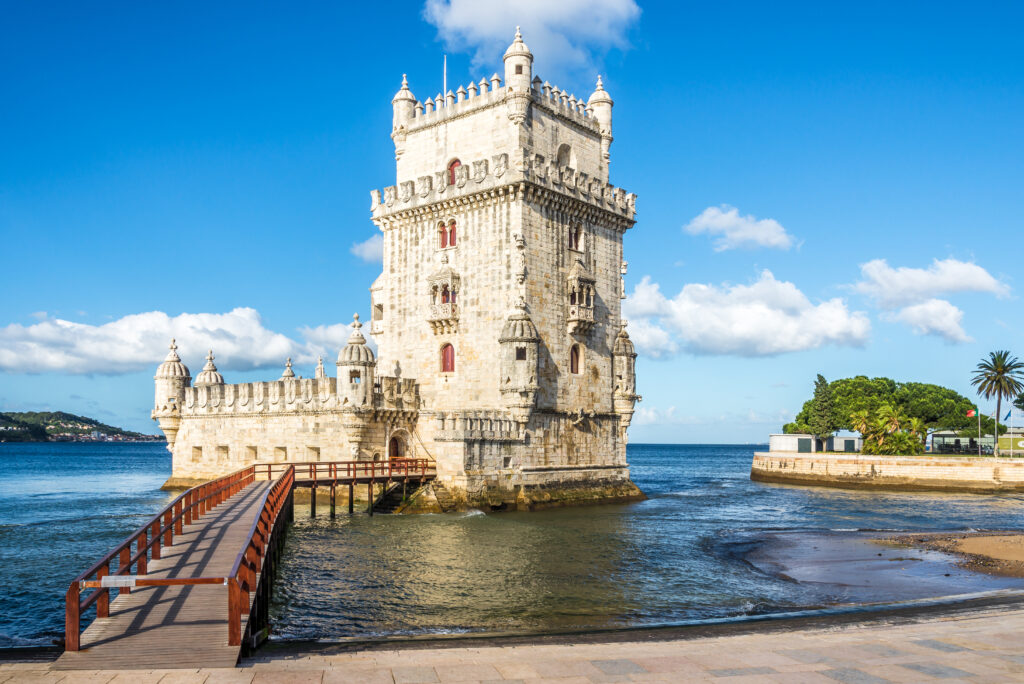 Tower of Belém
Walk along the river to the stylized tower that used to stand guard for the entire area. For centuries, this tower marked the start of a ship's journey and a welcome sight upon returning home. It looks like it broke off of the monastery down the street – classic Manueline architecture! One exterior embellishment to seek out is the westward-facing rhino-gargoyle, as Manuel I famously had a rhinoceros as a pet. It is possible to climb the tower, but it's not worth waiting in line nor the €6 admission – especially with children. 
Portugal's "Age of Discovery" began right here on these shores. By finding passage to India around Africa, Italy's stranglehold on eastern trade routes waned. Portugal, Spain, England and the Netherlands took to the seas and reaped untold fortunes – and at least one rhinoceros.