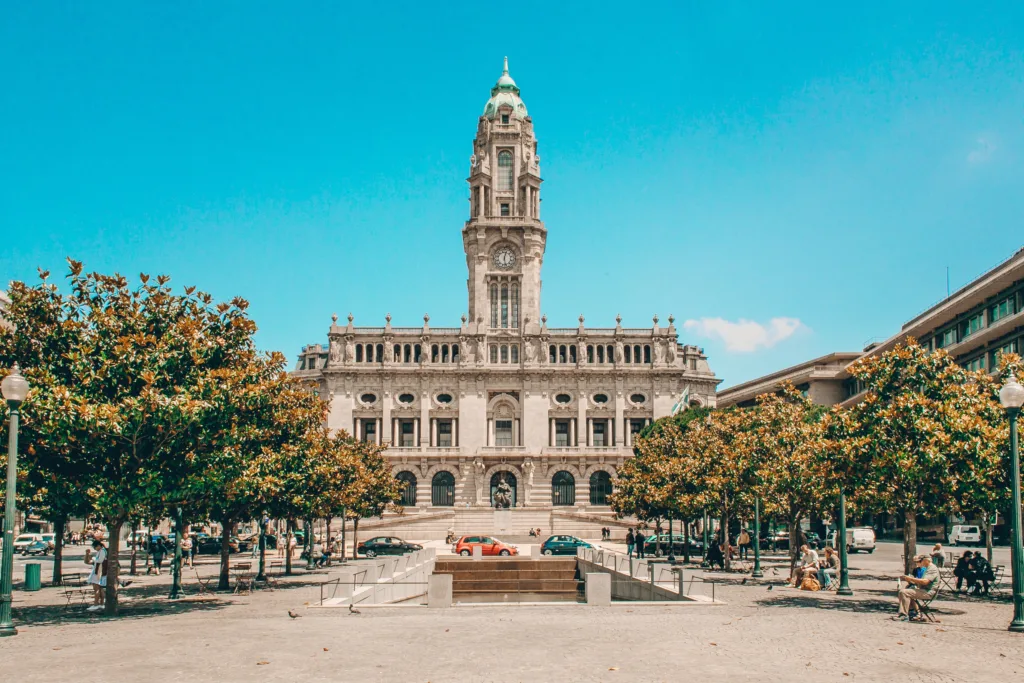 Porto is a great city to play "Guess How Many Steps?" at dinner. You can cover a lot of ground (and elevation) in a day walking around this magical city, so a guess northwards of 20k steps isn't crazy. Central Porto is pedestrian-friendly with sidewalks, promenades and squares-a-plenty. Most of the major sights are clustered in pockets around the city, so this keeps people on their feet as well. All to say, the meals are well earned. 22k steps? Better believe we're getting dessert!
Porto is just one of those cities that doesn't make sense on a one dimensional map. You might even feel that the hills, winding roads, public staircases, bridges and a river are scheming against you. In some cases, they are. Wait a second, this road doesn't connect to that bridge! 
We're big fans of walking around as much as possible to explore a city. As you plan your itineraries in Porto, here is some street knowledge to keep in your back pocket. 
Luís I Bridge
King Luís I was known as Luís 'the Popular.' You must be popular if they name a bridge after you while you're still reigning. Elegance and function combine for a simple, emblematic bridge. If it looks a little like one of the legs of the Eiffel Tower, it's because it was designed by one of Gustave Eiffel's students, Théophile Seyrig. It's right in the middle of central Porto with a double-decker connection across the Douro River to Vila Nova da Gaia. The double-decker functionality is brilliant. Upper part of the bridge connects from high ground by Porto Cathedral. Lower part of the bridge connects the parallel river promenades. Pedestrians can walk across high or low, whichever is more convenient.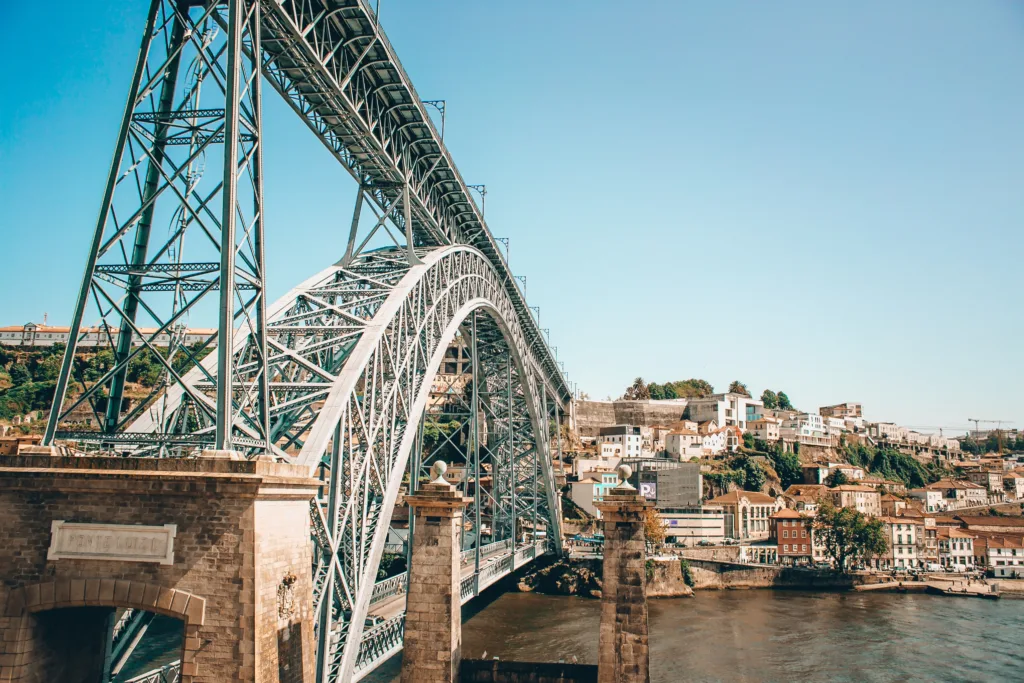 Avenido dos Aliados
Avenue of the Allies is the grandest, most imperial looking mall in Porto. You have the Câmara Municipal Building on one end and a statue of D. Pedro IV on the other. Despite sitting on the throne of both, D. Pedro IV spread liberal ideals that allowed Brazil and Portugal to move away from absolutist regimes – history looks upon him fondly. Grand buildings (most of which used to be banks) flank both sides. A beautiful McDonalds inhabits a former bank's interior which had been more or less untouched since the 1930s. We mention this avenue because it is a criss-cross point for the Metro, trams, buses and people on foot. You will likely pass through at some point. An impressive restaurant row runs parallel two blocks to the west. 
River Promenades
You're either looking at the port houses in Vila Nova de Gaia or looking back at the colorful stacks of buildings ascending up the hills of Porto. The riverfront in Porto is known as Cais da Ribeira and is accused of being a bit touristy. If you accept that you'll be paying more for a drink and potentially underwhelmed by the restaurants, Cais da Ribeira is still a must see. Don't neglect the alcoves, stairs and alleys bifurcating the promenade, as they hold mystery and charm mere steps away from the throngs of other people. Legally, all the port has been housed on the south banks of the Douro River in Vila Nova de Gaia since 1926, but most of the cellars have been in use for 100s of years before that. Even if you're not going on a port tasting tour, it's worth the 5-minute walk across the Luis I Bridge to enjoy a wider and less-crowded riverfront stroll.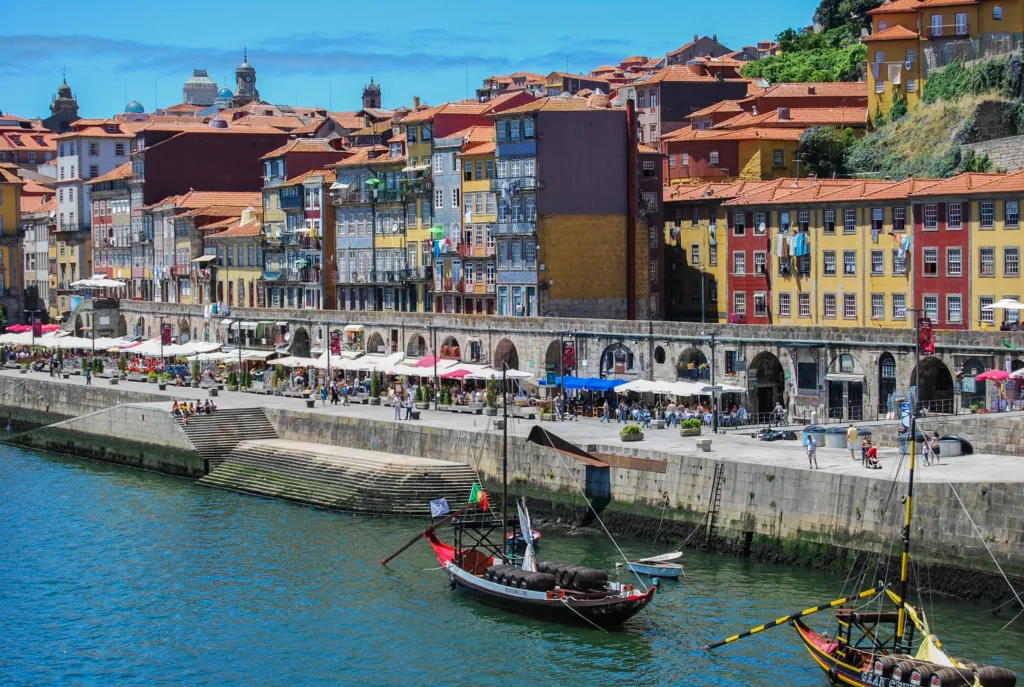 Bolhão Neighborhood
This is the most pedestrian friendly neighborhood in Porto. Traffic is limited in some areas and a stretch along the shopping corridor of Rua de Santa Catarina is completely devoid of cars. If you're in the mood to wander in and out of shops, cafes and restaurants, this is the neighborhood to visit. These same reasons make it an ideal area to consider staying in. It's a happening spot, but not totally wild. The Mercado do Bolhão has been recently spruced up, and its commanding façade makes it hard to miss. Notably, this neighborhood does not have dramatic changes in elevation. It's not flat, exactly, but it's not bad by Porto standards. 
Metro, Bus & Tram
Unfortunately, jackhammers will be drowning out church bells until at least 2025 in some popular parts of Porto. The construction of a new ruby metro line and additions to the existing yellow line means lots of digging and lots of torn up areas. Construction sites might ruin a photo or obstruct your route, but the payoff will be huge for guests in a few years, for the Porto Metro is one of the cleanest and easiest metro trains we've encountered in Europe. Most of the tram lines have been affected by this project above ground. Luckily, buses are reliable and generally not too crowded. But, the bus routes can be overly circuitous sometimes, meaning you might as well walk. Metro, bus and tram lines all accept the andante card.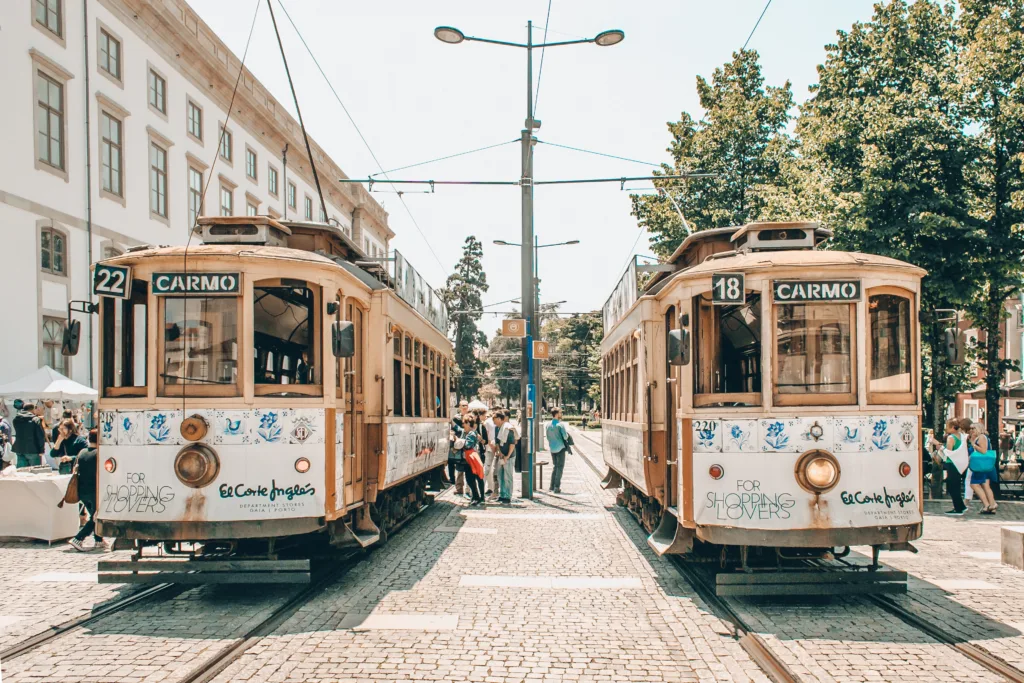 The Funicular dos Guindais
The funicular will bring you from the River Douro up a steep 281-meter track to the high ground near Bolhão Neighborhood. Trust us when we say it has more function than fantasy. It's €2.50 per person and runs independently of the public transportation system. If you're looking for a view, you'll get a few peaks here and there, but most of the 3-minute ride takes place in a tunnel. There are much better views all over town. We felt crammed and if we hadn't been by the window, it could have felt downright claustrophobic. This funicular should only be considered if you're in a time pinch and there's no line.