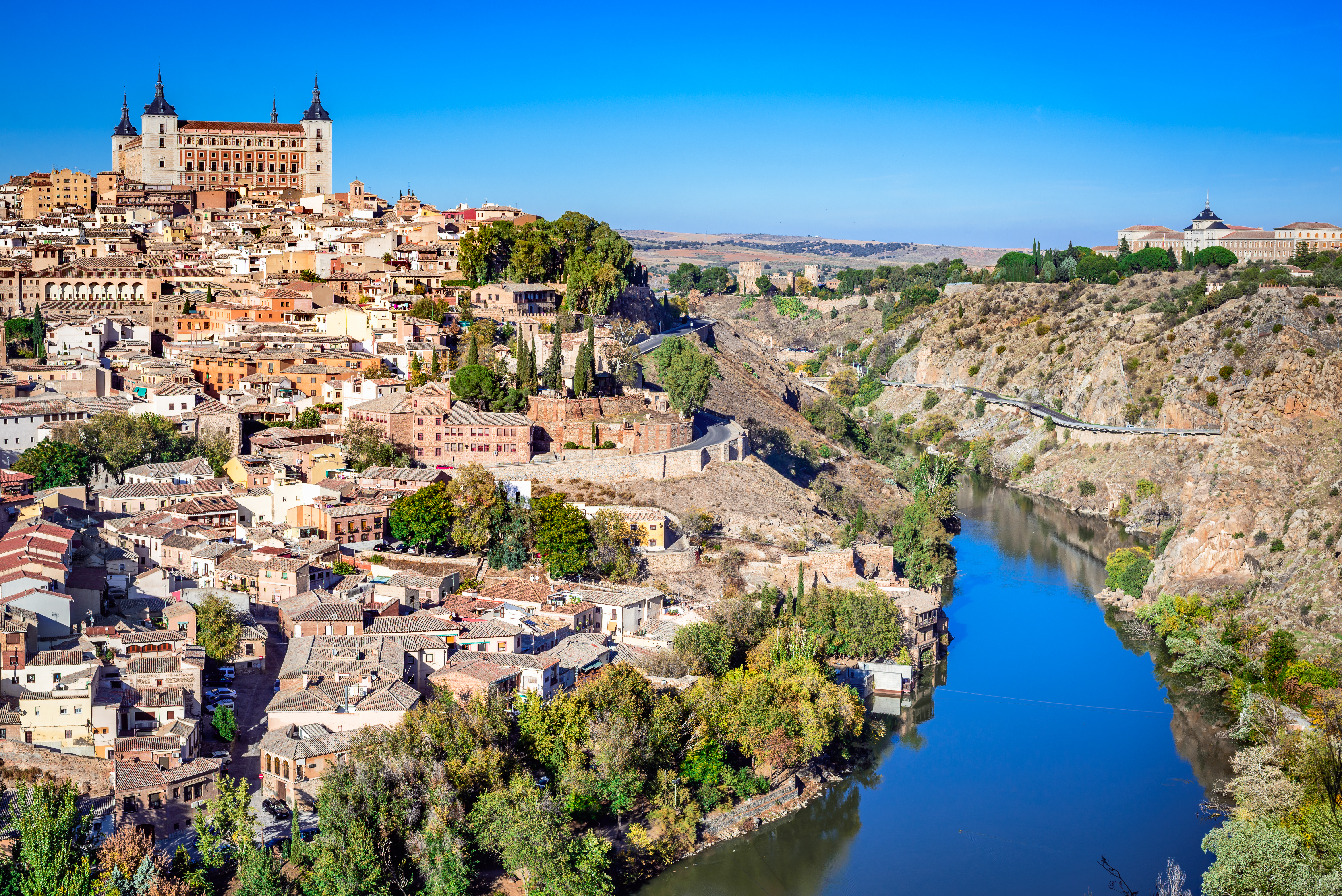 THREE WAYS TO SEE TOLEDO OUTSIDE THE CITY WALLS
Toledo is a medieval walled city on a hill. The three major modes of transportation to Toledo will only get you so far. The bus terminus, train station and public parking are all located below the historic city center, to the north and northeast. All this is to say, you will get a look at Toledo from outside upon arrival. However, if Toledo could talk, she might say that this isn't her good side. The best views of Toledo are across from her, along the River Tagus.  
Hike From Alcántara Bridge to San Martin Bridge 
The arched Alcántara Bridge is like something out of a fairytale. Leave the city on the Alcántara Bridge and make your first right. Hug that road as it undulates above the river and follow it as it twists and winds to the other side of Toledo at San Martin Bridge. It is not a technical hike, as you are mostly alongside a road. But, you will rise nearly 90 meters in elevation, so if you are pushing a stroller, you will feel it. The view of Toledo will change drastically as you circumnavigate nearly half the city. The hike is punctuated by a couple of official miradores or observation decks. The difference between your photo and those of the tour buses and vans joining you at the miradores, is that you earned it!  
Personal Note: Alcántara Bridge is where the love affair with Toledo began for Rebecca. She studied at the Fundación Ortega y Gasset (in the city center) during college, but her host family resided in nearby Santa Bárbara. It being the olden days of 2003, she had to walk uphill to school – both ways.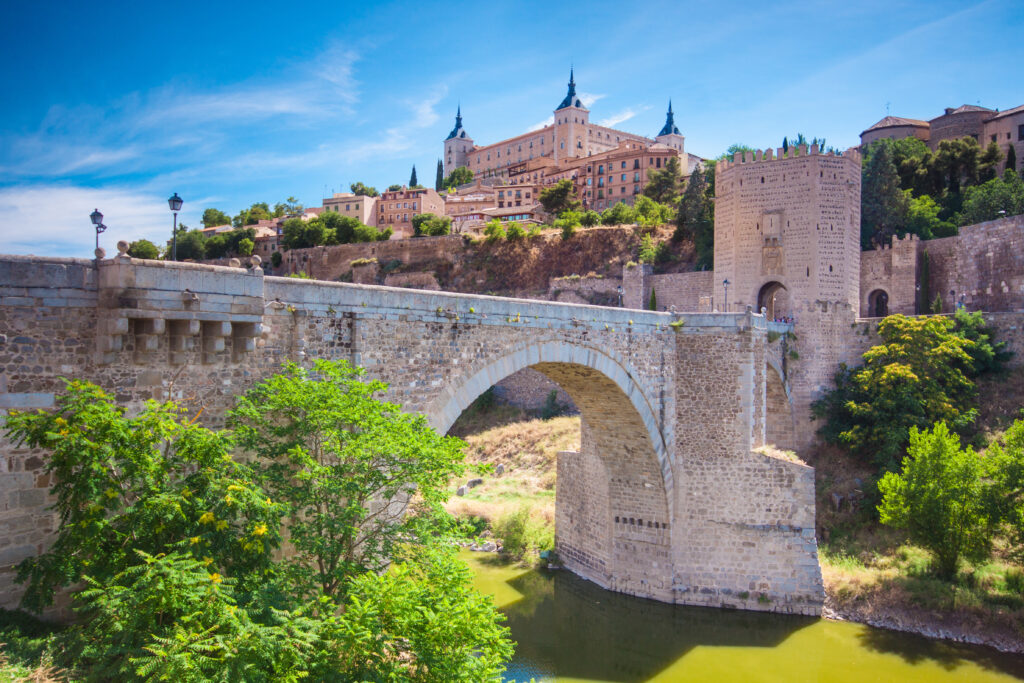 Eat Lunch at the Restaurant of the Parador de Toledo 
There isn't a direct translation to English for the Paradores de Turismo de España. The Paradors are a collection of hotels owned by the Spanish government that are housed in historic buildings either in city centers or (as in this case) with impressive vistas. These hotels also contain restaurants which feature menus hyper specific to the region. They are always stunning buildings, restored with each place's cultural history in mind. The menus are equally considered, offering food with history and place. In the case of Parador de Toledo, the menu pays homage to the Jewish, Moorish and Christian influences on the area. It's a white table cloth kind of place, so prepare to be pampered. If you have small children, please note that it's a rather quiet dining room where you can hear the gentle dinging of other diners' silverware against plates. You're here for the view, so be sure to explore the grounds before and after lunch.  
Personal Note: This Parador was the inspiration for the name of the tapas restaurant we owned and operated for a dozen years back in the States. The menu in Toledo features composed dishes, but our restaurant, named simply Parador, certainly tried to evoke this land of La Mancha.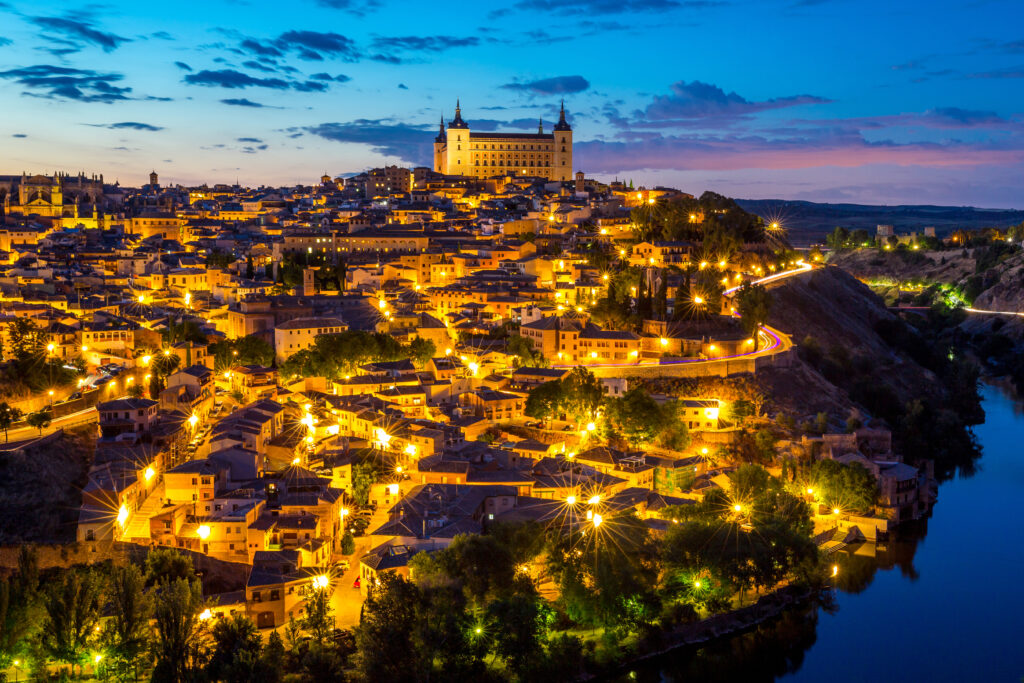 Stay Outside the City Walls
Toledo is beautifully lit up at night with special focus on its signature buildings like the Alcazar and Toledo Cathedral. This lighting is supposed to be viewed from afar. We've identified two hotels in which you can wake up and go to sleep with a postcard view of the city.  
AC Hotel by Marriott Ciudad de Toledo: This tidy hotel is designed for business travelers. But, if you can score a room with its own terrace, it'll be worth the 15 minute walk into town.  
Parador de Toledo: The Parador is a short taxi or Uber ride commute into town, but the view cannot be denied. There's also a large pool. You may have not even considered swimming as an option on your trip. Relax and beat the heat of the arid semi-desert of La Mancha.  
Personal Note: We realize this is the opposite advice we gave elsewhere about staying within Toledo's city walls. Travel decisions aren't always cut and dry. Sometimes both options are invigorating.